Back to top
The Blue Angels Return to San Francisco for Fleet Week 2021!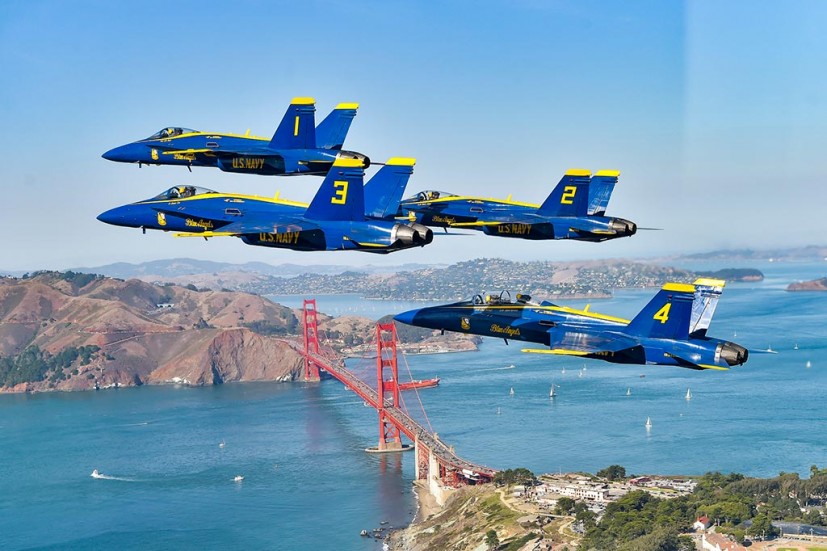 U.S. Navy photo by Mass Communication Specialist 2nd Class Timothy Schumaker/Released.
Come and celebrate the men and women who serve in our country's Navy and Marine Corps at San Francisco Fleet Week 2021! Fleet Week features a variety of events, including a parade of ships, an air show, live music, ship tours, and of course exciting performances by the Navy's popular Blue Angels precision flying team.
Events take place in a variety of locations on the San Francisco waterfront from October 3–11. The Blue Angels practice on Thursday, October 7, and they'll perform over San Francisco Bay on Friday, Saturday, and Sunday, October 8, 9, and 10, during the Fleet Week Air Show, which takes place from 10 am to 4 pm each day. They can be seen from a variety of locations on the Bay, including Angel Island and Fort Baker in Sausalito. The Fleet Week Air Show also includes the US Navy Leap Frogs parachute team, the USAF Viper F-6 demo team, the Red Bull Wingsuit Skydivers, a U.S. Coast Guard rescue demonstration, and much more.
The Fleet Week Parade of Ships takes place Friday, October 8 at 11 am. Ships, led by an SFFD fireboat, will pass through the Golden Gate, make their way past Marina Green, and berth along the San Francisco waterfront, where some will be available for tours on Saturday, Sunday, and Monday.
U.S. Navy photo by Mass Communication Specialist 2nd Class Jen Blake.
This year's Fleet Week includes a Humanitarian Assistance Village on Marina Green, which features food, entertainment, and interactive displays from both military and civilian organizations about disaster preparedness, response, and recovery. Fleet Week will also include a variety of other events from art shows and band concerts to search-and-rescue demonstrations and public safety canine demos.
San Francisco's annual Italian Heritage Parade takes place in conjunction with Fleek Week on Sunday, October 10. The parade—San Francisco's oldest civic event and the oldest Italian heritage parade in the county—starts at 12:30 pm at the foot of Jefferson and Stockton Streets in Fisherman's Wharf, proceeds south through North Beach on Columbus Avenue, and ends in Washington Square in front of St. Peter and Paul Church.
Fleet week events are free, although reserved box seats along the waterfront cost $85. For more information, tickets, and a complete schedule of exciting Fleet Week events visit fleetweeksf.org.
Sign up for tips & news for Marin families!