Back to top
Annual SF Team Hope 5K Walk & Fun Run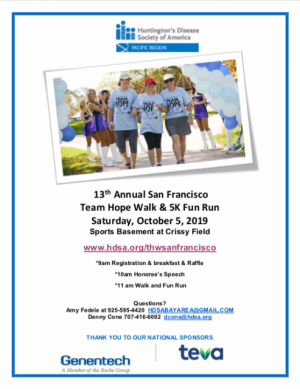 The Team Hope Walk program is Huntington's Disease Society of America's (HDSA) signature grassroots fundraising campaign designed to provide hope and support for those touched by this devastating disease, Huntington's disease (HD).  HDSA is a premier nonprofit improving the lives of everyone affected by Huntington's disease.
All proceeds support HDSA's mission to improve the lives of people affected by HD and their families.
Huntington's disease (HD) is a fatal genetic disorder that causes the progressive breakdown of nerve cells in the brain. It deteriorates a person's physical and mental abilities during their prime working years and has no cure. HD is known as the quintessential family disease because every child of a parent with HD has a 50/50 chance of carrying the faulty gene. Today, there are approximately 30,000 symptomatic Americans and more than 200,000 at-risk of inheriting the disease.