Back to top
Cedars Holiday Craft Fairs (2 Locations 2 Days!)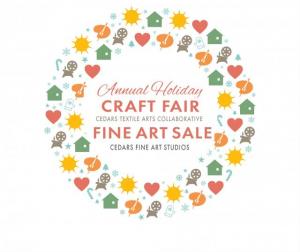 Please join us for Cedars 2 Holiday Craft Fairs!
Cedars Textile Arts Collaborative's Annual Holiday Craft Fair
November 20th & 21st from 10am – 2pm
Handwoven textiles, homemade treats, honey from our local hives, artisan soaps, and many other crafts! Come meet Cedars famers, beekeepers, weavers, crafters, and chefs!
Directions (San Rafael): Go west on 5th Avenue into Mt. Tamalpais Cemetary. Turn left at the flag pole. Stay on the middle path.
Contact: 415-453-4240
AND
Cedars Fine Art Studio's First Annual: Winter Festival Fine Art Sale!
November 20th & 21st 10am – 5:30pm
Small & large art, gift boxes, framed & unframed matted paintings, hand crafted jewelry, ornaments & garlands, and more!
Meet Cedars artists!
Address: 2 Kensington Road, San Anselmo, CA
Please bring cash or checks. 50% of sales go directly to the artists, and the remainder supports creative, productive, and joyous lives for individuals with intellectual and developmental disabilities at Cedars.
Visit cedarslife.org for more information.