Back to top
Fleet Week SF--Blue Angels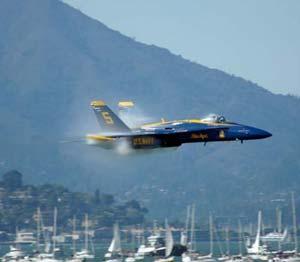 Come and celebrate the men and women who serve in our country's Navy and Marine Corps at San Francisco Fleet Week 2019! Fleet Week features a variety of events, including a parade of ships, an air show, live music, ship tours, and of course exciting performances by the Navy's popular Blue Angels precision flying team.
Events take place in a variety of locations on the San Francisco waterfront from October 6–14. The Blue Angels practice on Thursday, October 10, and they'll perform over San Francisco Bay on Friday, Saturday, and Sunday, October 11, 12, and 13, during the Fleet Week Air Show, which takes place from noon to 4 pm each day. They can be seen from a variety of locations on the Bay, including Angel Island and Fort Baker in Sausalito. The Fleet Week Air Show also includes the US Navy Leap Frogs parachute team, the Canadian Snowbirds, the Patriots Jet Team, and a U.S. Coast Guard rescue demonstration.
The Fleet Week Parade of Ships takes place Friday, October 11 from 11 am to noon. Ships, led by the SFFD fireboat St. Francis, will pass through the Golden Gate, make their way past Marina Green, and berth along the San Francisco waterfront, where some will be available for tours on Saturday, Sunday, and Monday.