Back to top
Fun Family Fitness Class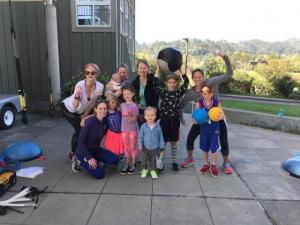 Mill Valley Community Center
Join Coach Tilda for a fun workout for the entire family! Geared towards kids of all ages and their families, the class is filled with games, activities, and exercises that are safe, fun and challenging for both kids and parents. Not only is this a creative way to start an active lifestyle at a young age, but you also get to spend quality time with your family! You are guaranteed to leave the workout feeling stretched, sweaty and happy!
Check in at the Aquatics & Fitness Center Front Desk. Class is held outdoors so please bring layers. 
For babies, you are welcome to keep them in strollers or you can check them into Kidzwatch which is located in the Aquatics & Fitness Center building.
More information on Kidzwatch: http://www.millvalleyrecreation.org/facilities/aquatics_and_fitness/kidz...
For questions about the class and it's overall program, please contact Coach Tilda at tilda@coachtilda.com or 650-867-2505