Back to top
Good Shepherd Lutheran School presents Willy Wonka Jr.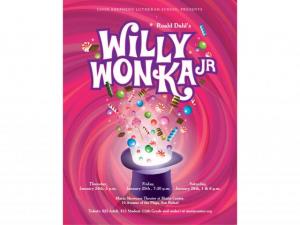 Come watch this crowd pleaser January 24-26th at the Marin Center Showcase Theater!​
Good Shepherd Lutheran School will present Willy Wonka Jr. for the school's annual musical. This is Good Shepherd Lutheran School's twenty-third season presenting musical theater to the community.
"At Good Shepherd Lutheran School we believe in making theater and music part of the classroom experience," says Gretchen Simon, Director of Music and Drama at Good Shepherd Lutheran School." This year's production is exciting – as they all are – and we are looking forward to presenting it to the community. The students have worked tirelessly and they will put on a stellar show."
The delicious adventures of Willy Wonka's chocolate factory light up the stage in this captivating adaptation of Roald Dahl's fantastical tale. Featuring the enchanting songs from the 1971 film, Roald Dahl's Willy Wonka Jr. is a scrumdiddlyumptious musical guaranteed to delight everyone's sweet tooth.
Roald Dahl's Willy Wonka Jr. follows enigmatic candy manufacturer Willy Wonka as he stages a contest by hiding golden tickets in five of his scrumptious candy bars. Whomever comes up with these tickets will win a free tour of the Wonka factory, as well as a lifetime supply of candy. Four of the five winning children are insufferable brats, but the fifth is a likeable young lad named Charlie Bucket, who takes the tour in the company of his equally amiable grandfather. The children must learn to follow Mr. Wonka's rules in the factory – or suffer the consequences.
The performance will be at the Marin Showcase Theater at Marin Center, 10 Avenue of the Flags, San Rafael on Thursday, January 24 at 5 p.m., Friday, January 25 at 7:30 p.m., and Saturday, January 26th with shows at 1:00 p.m., and 6:00 p.m. Tickets are available at Marincenter.org.