Back to top
North Country Blue + Little Folkies | Redwood Grove Summer Concert
UC Botanical Garden at Berkeley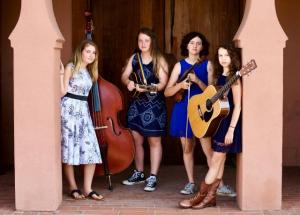 Enjoy a magical music experience this summer under towering redwoods in the Berkeley hills. We are proud to Stand for the Redwoods with Save the Redwoods League, celebrating 100 years of redwood forest protection.
Ticket includes admission to the Garden before closing at 5 pm. Shows will sell out – buy your tickets in advance!
North Country Blue
Your young ones will be inspired by these three members of the phenomenal all-girl, all-teenage bluegrass band "North Country Blue" – Tessa Schwartz (fiddle), Daisy Kerr (guitar) and Megan January (upright bass ) – who recently opened the famed Strawberry Music Festival with a dynamic main stage performance. They will be joined by special guest Max Schwartz (banjo), a well-known Bay Area bluegrass and jazz musician, who recently toured with Laurie Lewis and the Right Hands while still in high school and now studies at the Frost School of Music at the University of Miami.
Music with Little Folkies
A special performance by Little Folkies' favorite teachers, local singer-songwriters Kelly McFarling and Kendra McKinley, who will be performing allfavorite songs from the Little Folkies collection of original and traditional folks songs for children featured in the weekly Little Folkies classes.
Little Folkies is an award-winning folk music class for parents and children ages 0-5 years old in the San Francisco Bay Area. Creator Irena Eide has developed the LittleFolkies program for nearly a decade, writing the over 46 popular folk and bluegrass songs for children that are featured in their classes and performances.