Back to top
Novato Farmers Market–Downtown Novato
Grant Ave & 7th Street behind CVS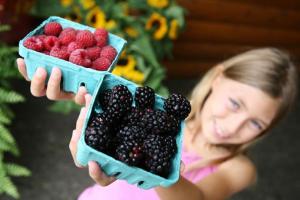 The Downtown Novato Community Farmers Market is now open for the 2022 season. The market takes place from 4 to 8 pm on 7th Street between Grant Avenue and Novato Boulevard (behind CVS). Come check out an abundance of fresh produce from local farms, fresh prepared foods from local vendors, crafts, and more.
Each year the Novato Farmers Market grows and improves, and boasts an impressive array of some of the Bay Area's finest food purveyors, producers, farmers, and ranchers. While you can shop at the market using appropriate social distancing measures, they're now offering curbside pickup, too. For curbside pickup, you'll need to create an account on their website and then place your order. (Orders need to be placed by 5 pm the Monday before.)
The Downtown Novato Community Farmers Market takes place every Tuesday evening from 4 to 8 pm from May 3 through September 25, 2022. For more info, visit ilovefarmersmarkets.org or call (415) 999-5635.