Back to top
Presidio Picnic
Main Parade Ground in Presidio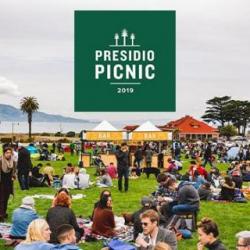 Presidio Picnic brings together the best of the Bay Area food scene with the beauty of this national park site. Held on the seven-acre Main Parade Ground lawn, Presidio Picnic features food and drink from more than 30 international mobile food creators. But it's not just about the grub. Each month, Presidio Picnic will feature monthly dance performances and each week visitors can enjoy an ever-changing array of free activities, including: free bike safety classes for kids offered by Presidio Y​MCA, nature-based arts and crafts for kids, lawn games, yoga from LubbDubb, music, and free bike valet by the SF Bicycle Coalition.
Bring a blanket and enjoy an amazing day in the park!
To plan your next adventure, visit the Presidio Visitor Center, located across from the Picnic lawn. Get to Presidio Picnic on the free PresidioGO Shuttle or Public Transit. Paid parking is limited.
The season opens on Sunday, March 31st at 11:30 am with a very special welcome blessing from the Ohlone Costanoan Rumsen Carmel Tribe, which honors early inhabitants of the Presidio.