Back to top
Celebrate the "Holidaze" at the 2017 Sonoma County Fair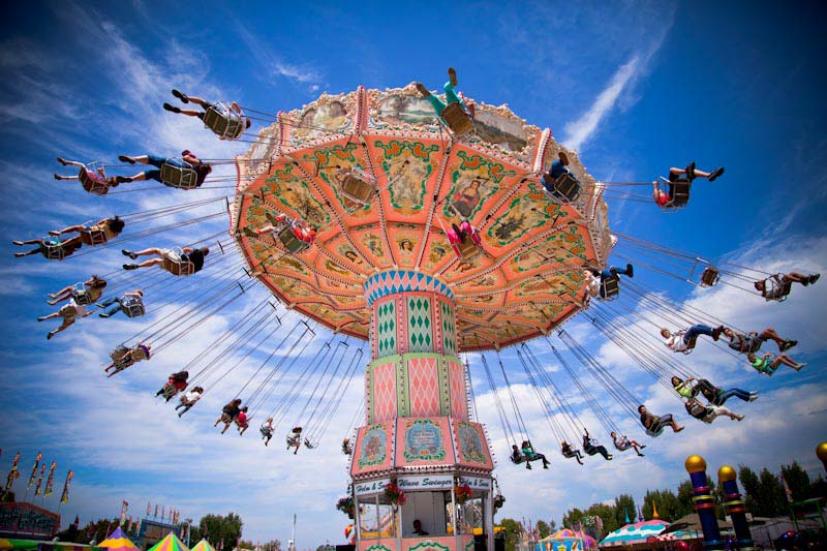 In case you missed or just didn't get enough of the Marin County Fair, you'll be happy to know that the 2017 Sonoma County Fair starts Thursday, August 3 at the Sonoma County Fairgrounds in Santa Rosa, and runs through Sunday, August 13. This year's theme is "Holidaze", and the fair will celebrate a whole year's worth of holidays in its 11-day run, with a different holiday theme each day, including Easter (August 3), New Year's (August 4), the winter holidays (August 5 and 6), and even International Talk Like  Pirate Day (August 9). Check their website for a complete schedule.
The Sonoma County Fair is worth checking out if you've never been: it's bigger and a lot different than Marin's smaller, more intimate fair, and has more of an agricultural focus, which is natural for a more rural county like Sonoma. The Sonoma County Fair also features the largest themed flower show in the country, which is usually pretty stunning—this year's theme is "Holidays in Bloom".
The fair includes a kids' area with free age-appropriate entertainment and activities with the theme "Holiday Adventures." Young fairgoers can take part in a holiday-themed show three times a day, and celebrate Halloween, Valentine's Day, Easter, Christmas, and more. There's plenty of lawn and shade as well as a parents rest station with changing tables and chairs for nursing. The Kids Area is open from 11 am to 8 pm, with activities and entertainment from noon to 6:30 pm.
The fair also holds a daily parade around the grounds at 5 pm that all can participate in—if you want to join in, show up by the Milk Barn at 4:45 pm. Of course you'll also find plenty of other things to see and do, including the usual county fair offerings of concerts and live music, farm animal displays, contests, and tons of food, as well as horse racing, rodeos, a even a demolition derby. 
The fair also boasts five acres of thrilling classic carnival attractions for all ages. Rides cost $1 each, and discount ticket books and wristbands are available for purchase.
Headliner concerts are free with fair admission and include War, Foghat, the Marshall Tucker Band, and the Fab Four Beatles tribute band. See the whole concert schedule here.
If You Go
The 2017 Sonoma County Fair is open 11 am to 11 pm daily (closed Mondays); gates close at 9 pm and exhibit buildings close at 10 pm. Admission is $13 for ages 13 and up, $7 for children 7–12, and free for children 6 and under. Advance discount tickets are available until August 2. Special family, economy, and season pass packages are also available. The fair will also be free for kids ages 7–12 on Thursdays and seniors 60+ on Fridays. Veterans with military ID will be admitted free on Tuesday, August 8.
Some fair attractions, including carnival rides, headliner concerts, rodeos, and horse racing, are subject to additional ticket fees. Parking fees range from $8–$10, depending on the lot and its distance from the fairgrounds.
The Sonoma County Fairgrounds are located off Bennett Valley Road in Santa Rosa. To get there from Marin, take 101 north to Santa Rosa, then take the Highway 12 exit and head east; exit Highway 12 at the downtown Santa Rosa exit, which will put you on Bennett Valley Road. After the stoplight, you'll see fairgrounds ahead of you to your right.
For more information on the Sonoma County Fair, including a full schedule of events and a list of all attractions, call (707) 545-4200 or visit www.sonomacountyfair.com.
Photos: Sonoma County Fair