Back to top
Creative Hands-on Birthday Parties at Studio 4 Art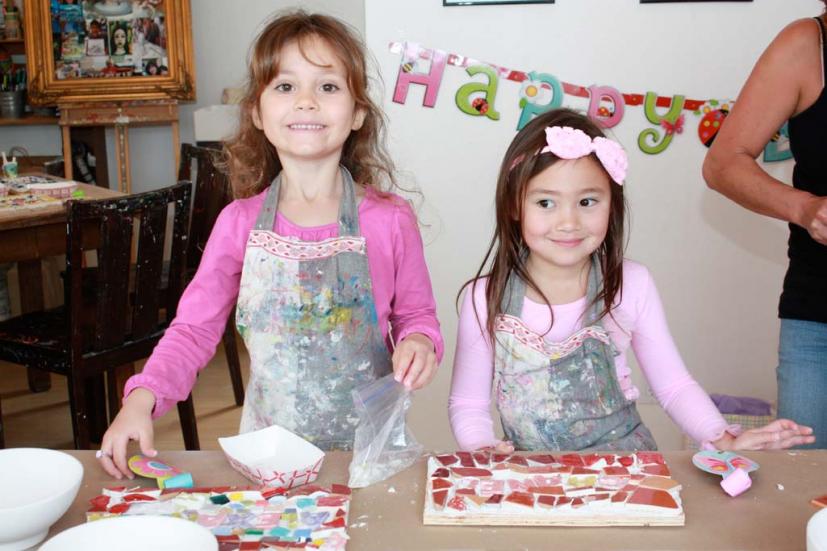 My kids have been getting creative at Novato's Studio 4 Art since it opened on Grant Avenue a few years ago. We've all enjoyed their hands-on art workshops and classes. Studio owner Kebby McInroy recently opened the Studio 4 Art Annex around the corner from the main storefront, and we decided to hold my daughter's recent birthday party there. Needless to say, it was a big hit with all who attended!
The Annex is a cute little cottage that Studio 4 Art uses to hold parties, special events, and summer camps. It holds up to 20 children, who can work on a variety of different art projects around the two large tables in the space. The Annex space has bamboo floors, track lighting, kids' art on the walls, lots of natural light, and a warm, welcoming ambience.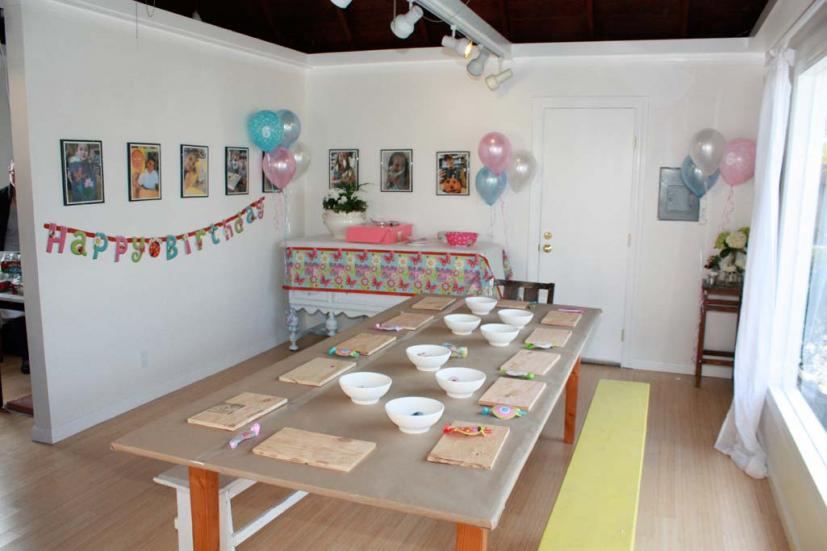 For our party, we chose mosaic nameplates, which the girls crafted out of colorful ceramic letters and pieces of glazed ceramic tile. Each project was totally unique, and everyone was really proud of their creations. When everything's dry, you can hang them on the wall—they make great decorations for children's rooms.
Our party was facilitated by two fantastic Studio helpers, Christina and Carly, who set up, patiently helped the children with their creations, moved the party along, and cleaned up when we were done. After the creative session, we celebrated with cake on the main studio table as our mosiacs dried so they could be safely taken home.
Parties at Studio 4 Art are suitable for ages 3 and up, and last for two hours, with 15 minutes of set-up, one-and-a-half hours of party time, and 15 minutes for clean-up. Parties start at $275 for eight children and $15 for each additional child. Bring your own decorations, utensils, snacks, and cake. There's also a stereo with an iPod dock, so you can bring whatever music you want to have playing in the background for your party.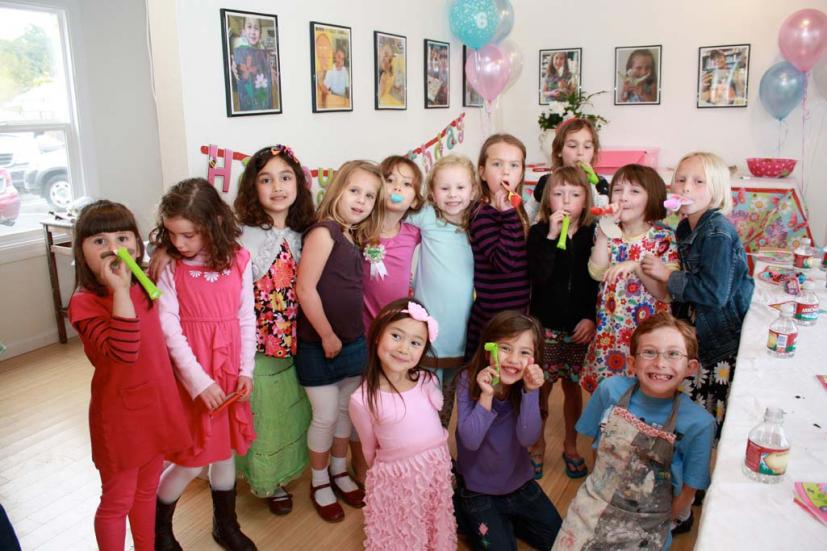 Possible party activity options are almost endless, and include mosaic wall art and mirrors, sewing, drawing, painting, clay sculpting, screen printing T-shirts, printmaking, and wheel-throwing ($30 extra). If you have your own idea, let them know and they'll probably find a way to do it. For a complete list of party themes and ideas, as well as a schedule of available party hours, visit their party page here. Studio 4 Art hosts parties for grown-ups, too, which are ideal for girls' or parents' nights out (bring your own wine), baby and bridal showers, fundraisers, and corporate events.
Studio 4 Art is located at 1133 Grant Avenue in downtown Novato. The Annex is right around the corner at 972 2nd Street. They also have locations in Mill Valley at 254 Shoreline Highway and San Anselmo at 1000 Sir Francis Drake Boulevard. For more information, visit www.studio4art.net or call (415) 596-5546.
Sign up for tips & news for Marin families!