Back to top
Experience Maker Faire Bay Area 2019, the Greatest Show (and Tell) on Earth!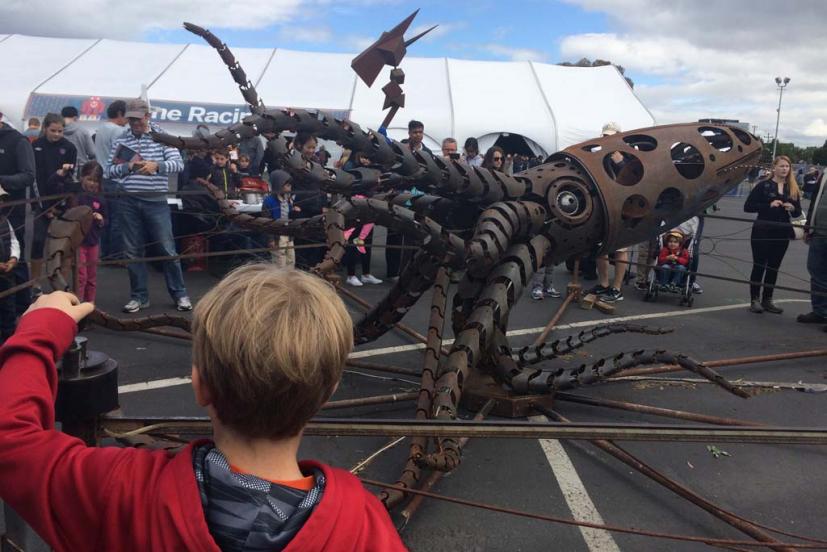 Get ready for the greatest show (and tell) on earth as Maker Faire Bay Area returns to the San Mateo Event Center. Maker Faire describes itself as "part science fair, part county fair, and part something entirely new!", and it's a family-friendly expo of invention and creativity featuring everything from technology, science, and engineering to food, art, and education. It's a celebration of all things "Maker" that will inspire you and your family to become Makers yourselves. Maker Faire Bay Area takes place Friday through Sunday, May 17, 18, and 19. On Friday, there is a preview day from 1 to 5 pm, on Saturday hours are 10 am to 7 pm and Sunday from 10 am to 6 pm.
We've attended the last few Maker Faires as a family and always have a great time. Some of my favorite attractions at last previous faires were El Pulpo Mechanico, a giant metal octopus that shot flames from its tentacles and head; Russel the Electric Giraffe, a life-size robotic giraffe who talks when you pet his head; giant Tesla coils; a life-sized Mouse Trap game; a dark room with lighted and glowing exhibits, and a drone arena. There are also demonstrations, talks, and vendor booths where you can check out technology, toys, crafts, fashion, and more.
If you and your kids are into coding, crafting, STEM/STEAM projects, robotics, gaming, sci fi, tinkering, and learning, then the Maker Faire is a great outing for your family! It's perfect for all ages; the youngest person I saw was a baby in a cool Star Wars land speeder stroller. (Why didn't my dad make me one of those when I was a baby?)
Find out all about Maker Faire at makerfaire.com.
If you go
Maker Faire Bay Area 2019 takes place at the San Mateo Event Center, 1346 Saratoga Drive, San Mateo 94403. Tickets start at $25 per person and are available in advance online (highly recommended!) and at the gate.
Maker Faire is a popular event, so parking can be a challenge and attendees are encouraged to take public transportation like BART, Caltrain, and SamTrans. If you bike to the fair, you can take advantage of free monitored bicycle parking.
No on-site parking is available at the event center. Limited street and lot parking can be found in the area, and is first come, first served. Parking is also available at Millbrae BART station, Oracle Plaza, and College of San Mateo, with shuttles running continuously to and from the Faire. Visit the Maker Faire website for complete details on parking and transportation.
Bring good walking shoes, since you'll be doing a lot of it, as well as a stroller for smaller kids. Plenty of drinking water is a must, too. There is a big food court at the Faire with everything you can possibly imagine. Bring sunscreen, hats, and water, since you'll be spending a lot of time outdoors. Maker Faire is also crowded, so make sure you keep an eye on little ones at all times. See you at the Faire!
Sign up for tips & news for Marin families!