Back to top
Fall Family Programs at Strawberry Recreation District
Marin Mommies presents a sponsored article from Strawberry Recreation District.
Strawberry Recreation District in Mill Valley offers a wide variety of fun family programs this fall. From an exciting youth basketball clinic to hands-on Halloween activities to their Winter Camp, there's something for every family at Strawberry Rec. Here is a guide to their upcoming offerings — register now, since space is limited.
October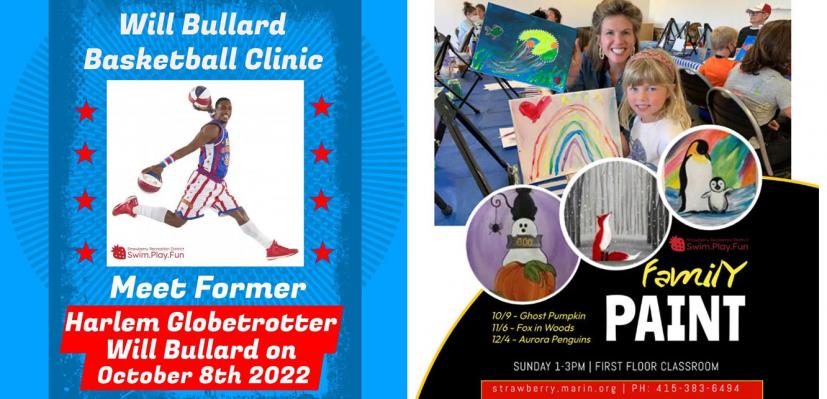 November
November 6, 2022, 1–3 pm
Family Paint: Fox in the Woods  
Ages 7+
Have fun in this one-day beginner's painting class. Artist Kathryn Yost Saturay will teach you and your child how to paint using acrylic paints. All supplies included. Bring your favorite snacks and drinks (non-alcoholic). Register in advance. Register here
December
December 10, 2022, 9 am–noon
Winter Wonderland Workshop with LEGOs
Bundle up, we're creating a spectacular Winter Wonderland! Build bobsleds, design snowplows, and take a ride on the Polar Express. Explore your snowiest ideas and learn STEM concepts with tens of thousands of LEGO® pieces at your mitten-tips and the guidance of an experienced Play-Well instructor. Register here
Winter Camp, December 19–22
Winter Camp Strawberry is designed for children ages 5–12 yrs. Participants will spend the day in a small group setting, with children in the same age range. All groups will participate in a wide range of activities throughout the day including sports, field games, nature walks, Holiday arts & crafts, music, science projects and interactive games. Space is limited and we are looking forward to a great four-day camp at Strawberry Recreation. For more info email rec@strawberryrec.org or call (415) 383-6494. Register here
 
Hours: 9 am–4 pm, Monday–Thursday
Early care: 8–9 am; additional fee required for early care ($46)
Fees: $322
Sign up for tips & news for Marin families!