Back to top
The Annual Point Reyes Sand Sculpture Contest Goes Virtual!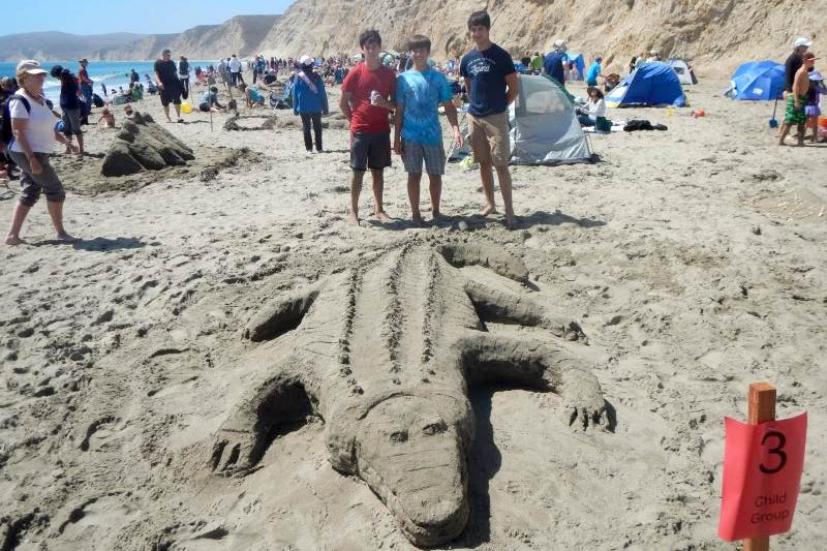 It's almost time for the annual Point Reyes National Seashore Sand Sculpture Contest, traditionally held at Drakes Beach. Things will be a little differently this year, however, due to COVID-19: the contest is going virtual.
Contestants of all ages in all places are encouraged to enter their greatest sand sculpture creations. Go to a beach near you between now and September 13, 2020, build your masterpiece, and take a photo to submit. Contestants may enter on their own or compete as a family group. Judgement criteria will be for most original, most creative, teamwork, best design, and "evokes what home means to you in these times." There are categories for kids (1), families (2), and adult individuals (3) and adult groups (4).
Remember to follow local, state, and federal guidelines  and use materials that are natural to the beach like shells, stones, etc. Non-natural materials scavenged from the beach are also acceptable. Dispose of non-natural materials found on the beach when you're done and if it's safe to do so. Sand sculptures must be created by human power with no mechanized assistance.
Contest instructions:
Build a sand sculpture at your local beach.
Write in the sand by the sculpture the following: category number, team name, sculpture title, date, and location.
Take a photo, post it to social media, and tag it #PRNSSand2020 and #PRNSYes so the park service can find your photo and post it on the park website and social media platforms.
Contest deadline is Sunday, September 13. Photos must be tagged and posted by Sunday, September 13.
For more information and to see some previous years' creations, visit www.nps.gov/pore.
NPS photo
Sign up for tips & news for Marin families!