Back to top
Maker Camp for Mini Makers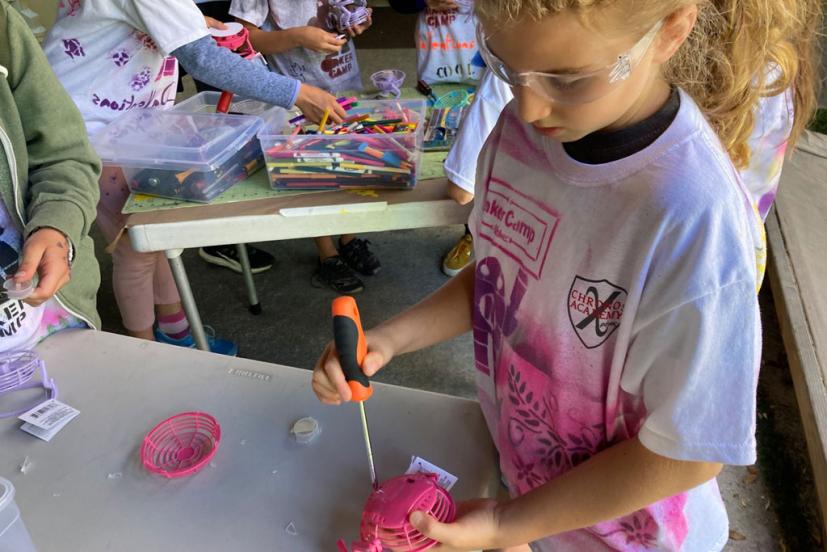 Marin Mommies presents a sponsored article from Chronos Academy, presenting Maker Camp this summer in Larkspur.
Maker Camp, sponsored by Make Magazine, is a summer camp with a focus on using science, technology, engineering, art, and math (STEAM) to create, build, and discover. Every day Maker Campers learn about makers of the past while becoming the Makers of the future. During the school year, Chronos Academy, a K-8 Micro-School, integrates Making projects to bring history, culture and science to life. Maker Camp introduces exciting projects from our upcoming school year and gives Maker Campers a fun-filled taste of Chronos Academy.
Campers (entering K–6th grade) rotate by age group every day to all four Maker Camp components: Engineering, Tech Lab, Art Exploration, and ReCreation. Whether it's with wires, gears or glue, we help them make connections they didn't know existed. In a comfortable 8:1 camper-to-staff ratio, these makers have all the help they need to succeed.
K–1st graders are some of the most creative makers of all because they have the biggest imaginations of all! We create fun every day, and mini makers make the same projects as the big kids plus some! Staff and mentors train them to use real tools and keep them safe and successful as they work. Their eyes get so big when they get to use a real drill press!
Join us Summer 2022 for these Early Modern Themes at Maker Camp: Steampunk, Wild West, Colonial Fun & Games, and Monarchs & Revolutions.
Sign up for tips & news for Marin families!