Back to top
Marin Weekend Family Fun for March 16–18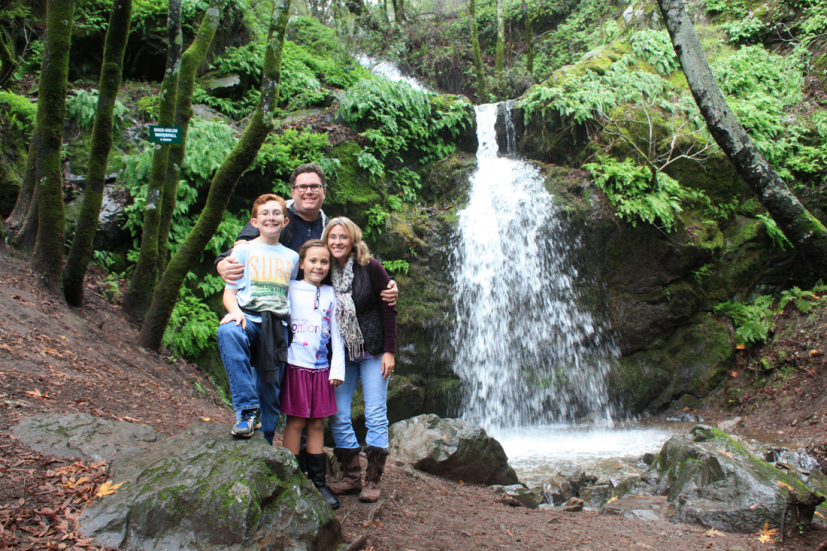 Get the family outdoors and explore one of the four easy waterfall hikes for families in Marin.
Here are our picks for great events and activities for children and families this weekend. Find more events for the whole week in Marin and throughout the Bay Area in our Family Events Calendar.
Friday, March 16
Larkspur Library Toddler Storytime
Larkspur
Friday, 9:30–10 am
Picture books, fingerplays and songs for two and three year olds. Free. Location: 400 Magnolia Avenue, Larkspur. Event details.
How to Draw a Leprechaun
Walt Disney Museum, San Francisco
Friday, 12:30 & 2:30 pm
In this fun and hands-on session, learn how to make your drawings truly come to life and put your creativity in the spotlight. For artists of all-ages, join us in our Learning Center where an instructor will teach you step-by-step instructions on how to draw a unique cartoon character. This month's theme is presented in conjunction with St. Patrick's Day and the museum's daily screening of Darby O'Gill and the Little People (1959) at 3 pm. Museum admission applies. Location: 104 Montgomery Street in the Presidio, San Francisco Event details.
Rainbows & Relevés Party at Tutu School
Larkspur Landing
Friday, 4–5 pm
Celebrate the LUCKY month of March at Tutu School with rainbow-themed twirling, crafting, and treats. Location: 1201 Larkspur Landing Cir, Larkspur. For more info, call (415) 419-5610 or visit their website.
Lantern Light Festival

Solano County Fairgrounds, Vallejo
Friday–Sunday, 5–11 pm

Join us for a spectacular evening of dazzling lights, colors, shapes, and themes. The Lantern Light festival is a six week celebration of Chinese culture featuring massive lanterns, inspiring performances, and incredible cuisine. A tradition that started over 2,000 years ago, the lantern festival is China's most important celebration, marking the return of spring, with the lighting of Chinese lanterns being symbolic of illuminating the future and the reunion of family. Tickets: adults $23, children $18 and under 3 are free.

Purchase tickets here.

Location: 900 Fairground Drive, Vallejo.

Event details.

Presidio Community YMCA, San Francisco
Friday, 5:30–9 pm.
Bring a blanket and enjoy a movie night in the Presidio! There will be food trucks, bubbles and face painting at 5:30 pm, cartoon short at 6:30 pm and Coco at 7 pm. Sponsored by Supervisor Catherine Stefani, in partnership with the Presidio Trust and the Presidio Community Y. Location: Presidio Community YMCA, San Francisco. Event details.

Friday Night Jazz Concerts
Marin Country Mart, Larkspur
Friday, 5:30–8:30 pm

Meet us at the Mart this Friday night to enjoy some jazzy tunes styled by Tom Bekany! Grab a drink, grab a snack, and settle in for a musical adventure. Grab a drink, grab a snack, and settle in for a musical adventure. Free. Location: Larkspur Landing.

Event details.

Judy Moody & Stink: The Mad, Mad, Mad, Mad Treasure Hunt
BACT Berkeley Center, Berkeley
Friday, 6:30 pm, Saturday & Sunday, 10:30 am & 1:30 pm
Bring the entire family to this weekend's opening performance. Ahoy! Join the race as Judy and Stink follow clues in their quest for doubloons and a trip on a pirate ship. Judy Moody & Stink: The Mad, Mad, Mad, Mad Treasure Hunt brings Megan McDonald's delightful story to the stage for the first time. Tickets: adults $26 and $20 children. Purchase tickets here. Location: 2055 Center Street, Berkeley. Event details.
Yes Theater: Footloose the Musical
San Anselmo Playhouse
Friday, 7 pm, Saturday, 1 & 7 pm, Sunday, 1 pm
Come see the 6–8th graders of the Ross Valley schools performance of Footloose The Musical. Tickets: $13 advance, $15 at the door. Location: 27 Kensington Road, San Anselmo. More info and tickets
Saturday, March 17
Basic of Freshwater Fishing
McInnis Park, San Rafael
Saturday, 9–11 am
Join us at McInnis Park where rangers will teach tips and tricks of the trade of freshwater fishing at the park's pond. This event requires a short walk up and down a large hill to reach the park's pond. This event is ideal for all ages. All skill levels are welcome and no experience is necessary. Dress in layers and wear sturdy shoes. Don't forget to bring a fishing pole. We'll provide a limited amount of fishing poles, thanks to the Department of Fish and Wildlife. A fishing license is required for participants 16 and over. Friendly dogs are welcome, but must be leashed. Rain will cancel. Location: 310 Smith Ranch Road, San Rafael. Event details.
Marin Country Mart Farmers Market
Marin Country Mart, Larkspur Landing
Saturday, 9 am–2 pm
Enjoy the best local and organic produce, flowers, pastured meats, seafood, organic cheeses, yogurt and milk, breads, baked goods, pasta, confections, olive oil, and brunch and lunch offerings! Kids can take a pony ride and visit the petting zoo (10 am–2 pm), try out some arts and crafts (9 am–2 pm) and listen to music (9:30–10:30 am). Event details.
Free Saturday Morning Zumba
Mill Valley Community Center
Saturday, 9–10 am
We take the "work" out of workout, by mixing low-intensity and high-intensity moves for an interval-style, calorie-burning dance fitness party on the lawn. Once the Latin and World rhythms take over, you'll see why Zumba Fitness classes are often called exercise in disguise. Check in at the Aquatics & Fitness Center front desk when coming for class. Location: Community Center on the lawn triangle behind the Center at 180 Camino Alto, Mill Valley. Event details.
2018 Annual Arbor Day Eco Fair
Washington High School, San Francisco
Saturday, 9 am–noon
During the annual Arbor Day celebration, there will be a focus on educating community members of all ages about urban tree care and environmental sustainability while enjoying fun-filled fair activities and informational booths. They are extremely hopeful that community youth, their families, their teachers and everyone else interested will join the fair. Location: 600 32nd Street, San Francisco. Event details.
Shamrock Day
Habitot Children's Museum, Berkeley
Saturday, 9:30 am–4:30 pm
Celebrate Shamrock Day with special activities like a hunt for hidden gold! Fill the pot at the end of a rainbow. Hear storytelling of Irish folktales, and more. In Habitot's Art Studio visitors will decorate leprechaun spyglasses that make the whole world look green and play with green gak. Be sure to wear green if you don't want to get pinched. Location: 2065 Kittredge Street, Berkeley. Event details.
Kids' Screenprinting 101
neve | hawk, San Anselmo
Saturday, 9:30–11:30 am
Super fun class for kids learning the art of screen printing. Kids will learn about the art, learn the steps and then make their own shirts with our designs on our six color screen press! They will all leave with a shirt THEY MADE THEMSELVES. Holla. If your child is 4 or younger, please stay with child. If older, go have some YOU time and come back and get them! Taught by neve | hawk owners Kris & Bob Galmarini. $45. Event details.
Year of the Dog: The Easter Beagle
Charles Schultz Museum, Santa Rosa
Saturday, 10 am–5 pm
Celebrate the Year of the Dog with a special Snoopy button, photo ops, and by making an Easter egg pop-up craft in our Education Room all day. Museum admission applies. Location: 2301 Hardies Lane Santa Rosa. Event details.
Festival of Carousel Animals
Garden Valley Ranch, Petaluma
Saturday & Sunday, 10 am–4 pm
Celebrate Spring and visit Garden Valley Ranch for this limited time exhibit of carousel animals in our gardens! Dancing ostriches, prancing horses, and maybe a lion, tiger and bear and many, many more! With collaboration from our friends at Barrango, Inc., who create the fantastical creatures for carousels around the world, this parade of animals is great for Springtime and Easter photos! The animals will be on exhibit from March 17 through April 8! Family friendly. Location: 498 Pepper Road, Petaluma. Event details.
Flying Leprechaun Skydive!
Hiller Aviation Museum, San Carlos
Saturday, 10 am–noon
The Luck o' the Irish meets the Hiller Aviation Museum for a special aerial celebration in honor of St. Patrick himself! Join the morning festivities, including free face painting and a jump house. At 11 am watch a bit of Leprechaun magic and aeronautical skill as the Museum's own Leprechaun leaps from a helicopter high overhead and descends to San Carlos Airport via parachute. Location: 601 Skyway Rd., San Carlos. Event details.
Safari West at Children's Museum of Sonoma County
Santa Rosa
Saturday, 10 am–1 pm
Join Safari West the 1st & 3rd Saturdays of every month for hands-on scientific discovery at the Children's Museum! Our guides will share the wonders of nature through our rotating programming, featuring our bone collection and animal bio-fact collection. Safari West is a 400-acre AZA certified wildlife park in the hills of Santa Rosa, featuring African mammals and birds from around the world. Guests are personally guided on three hour educational safaris in vintage safari trucks to explore wildlife and natural wonders. Museum admissio applies. Location: 1835 West Steele Lane, Santa Rosa. Event details.
Open Cockpit Weekend
Pacific Coast Air Museum, Santa Rosa
Saturday & Sunday, 10 am–4 pm
Open Cockpit weekends at the Pacific Coast Air Museum are your chance to get up close to selected aircraft and look inside. We raise the canopies and open the doors to give you an unobstructed view so you can see what a genuine fighter plane, attack plane, transport, helicopter, or other type is like from the inside! This weekend, climb aboard a Sikorsky H-34 Choctaw helicopter. Museum admission applies. Event details.
Eggster Egghunt and Learning Festival
Campanile, UC Berkeley
Saturday, 10:30 am–3 pm
The Eggster Egghunt and Learning Festival is the largest free egg hunt in Northern California. Not only is it free for all kids, it is also a learning festival filled with educational booths and activities that raises money for non-profit youth agencies! Event details.
Irish Tunes with John Pedersen
San Anselmo Library
Saturday, 11 am–12 pm
Celebrate St. Paddy's Day with Irish banjo and fiddle tunes by John Pedersen of Amazing Grace Music who will whisk you away to the land of shamrocks and leprechauns. Everyone is welcome to attend. Location: 110 Tunstead Avenue, San Anselmo. Event details.
The Gingerbread Man and The Leprechaun Loose at School Storytime
Barnes & Noble, Corte Madera
Saturday, 11 am
A mischievous leprechaun is causing all kinds of trouble at school, but Gingerbread Man is back to save the day! Join us for this special St. Patrick's Day Storytime, with activities to follow. Free. Location: 313 Corte Madera Town Center, Corte Madera. Event details.
St. Patrick's Day Parade & Festival
Civic Center Plaza, San Francisco
Saturday, 10 am–5 pm
The 167th Annual St. Patrick's Day Parade in San Francisco is a well established event with historic ties to the city. Parade: Begins at 11:30 am at 2nd and Market. The colorful festivities surrounding the parade will showcase Irish culture through live performances and entertainment, arts and crafts exhibitors, food and beverage concessions, children's rides and inflatables, and non-profits booths representing the Irish community. Festival runs from 10 am–5 pm in the Plaza. Event details.
Patchwork Series: Octopretzel
Freight & Salvage, Berkeley
Saturday, 11 am
In a show as exuberant as their whimsical name, Octopretzel returns to the Freight stage to share exciting new material! The band creates engaging music, inspiring curiosity, wonder, and appreciation for the world we live in. Their skilled musicianship and magical way with children guarantees a dance-able, sing-able and fun experience for the whole family. Admission: $10 advance, $12 at the door. Doors open at 10:30 am. Location: 2020 Addison Street, Berkeley. For more info, call (510) 644-2020 or visit their website.
Creative Family Fun: Blooming Butterfly Mobiles
Presidio Officers' Club, San Francisco
Saturday & Sunday, 11 am–4 pm
Drop in for imaginative craft-making based on the Presidio's natural and cultural heritage. Featuring different crafts every weekend! With spring just around the corner, the Presidio will be blooming with wildflowers. Celebrate the return of our favorite native flowers and fliers, like Presidio Clarkia and Green Hairstreak Butterfly by making your own spring natives mobile! Drop in anytime between 11 am and 4 pm. Free. Read about our visit to the Officers' Club here. Location: 50 Moraga Avenue, San Francisco. Event details.
St. Patrick's Day Cookie Decorating
teeny cake, Novato
Saturday, 1–3 pm
Please Join Us! Decorate a Shamrock cookie and wear green! Time: Anytime between 1-3pm. Self-guided instruction. Drop In anytime, get your cookie, and have some fun! Cost: $6 in advance plus service fee. Pricing includes 1 shamrock sugar cookie, decorations, and icing. Event info.
Young Zoologists: Engaging Europe
San Francisco Zoo
Saturday, 1–3:30 pm
Our Young Zoologists love learning about amazing animal and habitat classifications and what makes each group unique. Activities include crafts, games, a special chat with a zookeeper, Zoo walks, and snack. Cost: SFZS Members: $30 per child per class, Non-members: $35 per child per class. Pre-registration required, no drop-ins allowed. Event details.
Family Hike at Environmental Discovery Center
Spring Lake Regional Park, Santa Rosa
Saturday, 1–4 pm
Explore your local watershed! Learn how water flows through our parks and open spaces, and your own backyard. Join us the third Saturday of the month for short hikes to learn about our local plants and animals, while participating in a citizen science project. Three hikes start on the hour, at 1, 2, and 3 pm. Wear weather appropriate clothing and sturdy shoes. For more information, call (707) 539-2865 Free; parking is $7 or free for Regional Parks members. Loctation: 393 Violetti Road, Santa Rosa. Event details.
Throckmorton Youth Performers: In the Heights
Mill Valley
Saturday, 2 pm & 7 pm and Sunday, 2 pm
This revolutionary, Tony award-winning musical by Lin Manuel Miranda combines Latin rhythms and dance with hip-hop lyrics to tell a captivating story about hope in times of adversity and the importance of community. tells the universal story of a vibrant community in New York's Washington Heights neighborhood. Tickets: $15–$35. Purchase tickets here. Location: 142 Throckmorton Ave., Mill Valley. Event details.
Special Children's Author Event
Book Passage, Corte Madera
Saturday, 4 pm
Andy Weiner and April Chu: Down by the River. One beautiful autumn day, Art sets out with his mother and grandfather for a fishing trip. Fishing days are Art's favorite. He loves learning the ropes from Grandpa--the different kinds of flies and tackle and the trout that frequent their favorite river. Art especially appreciates Grandpa's stories. But, this time, hearing the story about Mom's big catch on her first cast ever makes Art feel insecure about his own fishing skills. But, as Art hooks a beautiful brown trout, he finds reassurance in Grandpa's stories and marvels in the sport and a day spent with family, promising to continue the tradition with his own grandkids generations later. Location: 51 Tamal Vista Blvd., Corte Madera. Event details.
Film: Tarzan
Walt Disney Museum, San Francisco
Saturday, 4 pm & Sunday, 1 pm
The king of the jungle is swinging back to the big screen with a special showing of Disney's Tarzan (1999). A human raised by apes in the depths of the jungle, Tarzan knows nothing of the outside world, until a group of explorers from London stumble across his path and his world is turned upside-down. (Run time: 88 mins). Cost: $5 members or with general admission, $10 adults, $8 student and youth. Location:104 Montgomery Street in the Presidio, San Francisco. Event details.
Campfire Program
Sonoma State Historic Park
Saturday, 5:30–6:30 pm
Bring the family for a talk with a park interpretive specialist, songs, stories and a marshmallow roast. Fun for all ages. Free. Heavy rain cancels. Location: Barracks Courtyard, Sonoma State Historic Park. Event details.
Parents Night Out
Isabel Cook Community Center, San Anselmo
Saturday, 5:30–9:30 pm
Come spend your Saturday night in the tumbling room with our teachers while your parents have the night off. Tumbling, a movie and snacks will be provided. Bring special diet snacks. For ages 4–12 years. Cost: $20 per night/per child. Please register in advance to ensure there is space for your child! Online registration guarantees a space! Register at www.sananselmorecreation.org.
Headlands Nightlife: Family Night Hike & Campfire
Fort Cronkhite, Marin Headlands
Saturday, 6–8:30 pm
 Explore the mysterious lifestyle of nocturnal animals that start their day just as you're going to bed! Learn about special adaptations that allow owls, bats and other nighttime critters to hunt by moonlight. This program features an Environmental Science Educator-led hike in the Marin Headlands. Our evening hikes are usually no more than 2 miles and allow for fun and learning along the way. After the hike we provide all the necessary supplies for some fun around the campfire including S'more roasting, campfire skits & fun sing alongs! Advance registration required; $15 per person. Event info
Indoor Power Play
Cal Star Gymnastics, Novato
Saturday, 6–9 pm
Drop the kiddos ( K-8 th grade) for some indoor fun. They can run, jump and play in an open gymnastics environment. Bring the kids in on a rainy day or any day to burn some energy. Cost: $30/ per child. Location: 70 Digital Drive, Suite #3 in Novato. Event details.
The Ladies of Broadway
Marin Veterans' Memorial Auditorium, San Rafael
Saturday, 7:30 pm and Sunday, 2 pm
Prepare to be amazed and inspired as these Broadway powerhouse Ladies hit the stage in March for a dynamic evening highlighting the tales and talents of their stellar Broadway experiences. Seven accomplished women will perform and share not only their own Broadway highlights and stories, but their tributes to women like Ethel Merman, Bernadette Peters, and Audra McDonald, that have inspired them throughout their careers. This performance for all ages is produced by Transcendence Theatre Company, the creators of the award-winning Broadway Under The Stars concert series in Wine Country. Tickets: $39–$129. Purchase tickets here. For more info, visit their website.
Public Star Party
Robert Ferguson Observatory, Sugarloaf Ridge State Park, Kenwood
Saturday, 8 pm
Presentations on astronomical topics are given in the classroom throughout the course of the evening. Starting at dusk, the Observatory's three main telescopes are open for your viewing. Docents set up additional telescopes in front of the building. Friendly and knowledgeable docents are available to answer your questions. Cost: $3. Location: 2605 Adobe Canyon Rd, Kenwood. Event details.
Judy Moody & Stink: The Mad, Mad, Mad, Mad Treasure Hunt (see Friday for details).
Yes Theater: Footloose The Musical (see Friday for details).
Sunday, March 18
Civic Center Farmers' Market
Marin Civic Center, San Rafael
Sunday, 8 am–1 pm
There's lots of organically grown produce, breads, eggs, and fresh cut flowers, as well as live music, bounce houses, and more. This farmers' market is a great one to take the kids to. It's located in the main Civic Center parking lot. Event details.
St. Patrick's Day 5K
Crissy Field, San Francisco
Sunday, 8 am
Flat, fast out and back course along Crissy Field to Fort Point and return.  Start and finish at Little Marina Green/Yacht Harbor Road.Race day registration/check-in begins at 8am and the race starts at 9am. Free half-mile Kids Race for children ages 12 & under begins at 9:45am, same location. Free parking at Little Marina Green, Crissy Field and adjacent lots.  For children ages 10 & under who wish to run in the 5K race, please register them on race day as there is no entry fee for this age group. Register online here.
Family ArtBash Sundays: Celebrating Authors Big and Small
Contemporary Jewish Museum, San Francisco
Sunday, 10 am–3 pm
Join us as we celebrate books and reading at The CJM's annual family day in partnership with the SF Public Library and the San Francisco Unified School District. Create miniature books, listen to stories alongside dogs from SF SPCA's Puppy Dog Tales, visit the SFPL Green Bookmobile, view the books created by the students in the Ezra Jack Keats Bookmaking Celebration, and listen to the tunes of Alphabet Rockers. Admission is free for two adults when accompanied by a visitor 18 and under, or a transition youth 18–22. Event info
Greenfest Block Party
45th Avenue, San Francisco
Sunday, March 18, 11 am–4 pm
Join Java Beach, the United Irish Cultural Center, and the United Irish Societies for their annual Saint Patrick's Day Block Party. Celebrate with Irish music, food, face painting, jumpy castles, and more fun! Location: 45th Avenue at Sloat Boulevard. Event details
Opening Day: Presidio Picnic
San Francisco Presidio
Sunday, 11 am–4 pm
Presidio Picnic brings together the best of the Bay Area food scene with the beauty of this national park site. Held on the seven-acre Main Parade Ground lawn, Presidio Picnic features food and drink from more than 30 local vendors. But it's not just about the grub. Visitors can enjoy an ever-changing array of free activities including yoga classes, lawn games, a Presidio photo booth, free kids bike-riding lessons from the Presidio YMCA, and nature-based arts and crafts for kids in the Presidio Adventure Zone tent. Event details.
Kanbar Kids: A Midsummer Night's Dream
Osher Marin JCC, San Rafael
Sunday, 11:30 am
Experience Shakespeare through performance and explanation of scenes from A Midsummer Night's Dream by Marin Shakespeare, followed by Director Jackson Currier leading theater games with the entire audience! Tickets: $10/$12 advance; $15 day-of for youth 17 and under; $5/$10 adults. Event info
Open Cockpit Day
Oakland Aviation Museum
Sunday, noon–4 pm
Open Cockpit is when the museum's visitors can view famous aircraft including A-3 Skywarrior, A-4 Skyhawk, A-7 Corsair and sit in a Harrier, Mig-15, ¾ replica of a Mustang P-51, Cessna 0-2, T-39 Business Jet, Glasair, and Ercoupe. Other activities include flight simulators, VR, and meeting the Canine Companions for Independence. Event info.
Judy Moody & Stink: The Mad, Mad, Mad, Mad Treasure Hunt (see Friday for details).
Sign up for tips & news for Marin families!