Back to top
"Mommy and Me" Winter Classes in Marin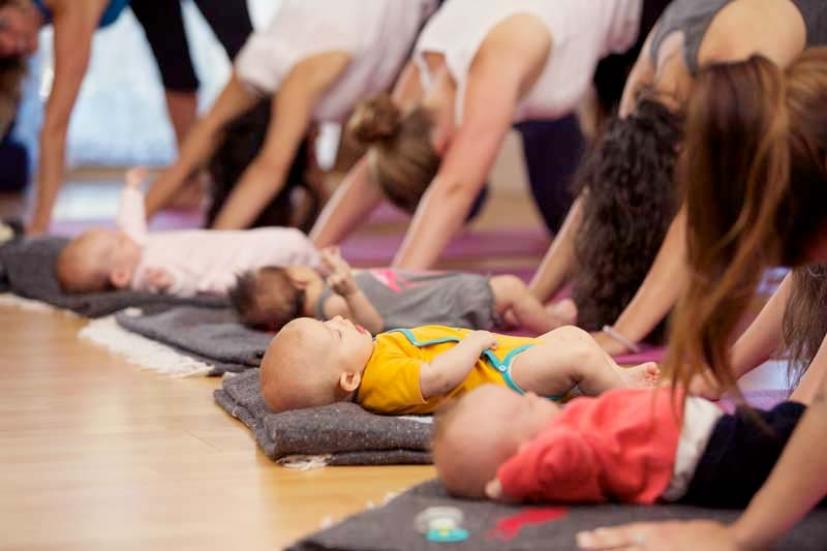 Pomegranate Prenatal Yoga & Parent Center, San Anselmo; photo by Fluid Frame
Looking for a local "mommy and me" class for you and your little one? Here is our list of classes throughout Marin County for children and their moms, dads, or caregivers to participate in together. The classes are either drop-in or you need to RSVP. Check with their website or call to find out before you attend with your little one. 
Sausalito
Pre-Ballet: Mommy and Me
City Hall Exercise Room, Sausalito
Fridays, 10–10:45 am (ages 2–3) or 11–11:45 am (ages 3–4)
This playful class with Miss Matrisha improves motor skills as children perform finger plays, dance to nursery rhymes, and move with balls or scarves to music. Wear comfortable clothing, such as leggings and a stretch top or leotards and tights. Come barefoot or wear ballet shoes. Pre-registration required. Location: 420 Litho Street, Sausalito. For more info, call (415) 289-4100 or visit their website.
Family Classes at the Bay Area Discovery Museum
Fort Baker, Sausalito
Various times throughout week
Explore art, music, dance, sign language, culture and more in the Discovery Museum's Family Classes. Each series offers multiple sessions for deep engagement with the topics, and includes museum admission for one adult and one child. Location: 557 McReynolds Road, Ft. Baker in Sausalito. For more info, call (415) 339-3900 or visit their website.
Mill Valley
Corte Madera
Parent and Me Gymnastics
The Cave, Corte Madera
Tuesday–Friday, 10:10, Wednesdays & Fridays, 11:10 am & 9:10 am
Come to the Cave with your infant or toddler and play in the giant padded playground. Instructors will teach you ways of playing with your children that will encourage the development of movement patterns that will benefit them throughout life. Suitable for ages 18–36 months, and will help prepare children to move into the Cave's preschool gymnastics program. Location: 412 Tamal Plaza, Corte Madera. For more info, call (415) 927-1630 or visit their website.
Mom and Me Gymnastics
Corte Madera Community Center
Wednesdays at 10:45-11:15 am
Teach parents to help their children to use gymnastics equipment safely and effectively. For ages 1-2. Organized activities to help motor skills for toddlers. Children socialize with other children the same age, learning to share and follow simple directions. Location: 498 Tamalpais Drive in the Main Hall of the Community Center. For more info, call (415) 927-5050 or visit their website.
San Anselmo
Mom and Baby Yoga and Pilates
Pomegranate, San Anselmo
Yoga: Mondays, 12:30 pm, Wednesdays, 2:30 pm, Fridays, 11 am
Pilates: Tuesdays, 10 am
Enjoy your baby, reconnect with your body, and meet other new moms in Pomegranate's postnatal mom and baby yoga or pilates class (non-crawling babies only). Cost: $22 drop-in. Location: 25 Tamalpais Avenue, San Anselmo. For more info, call (415) 785-3173 or visit their website.
Mommy & Me-My First Art Class
Isabel Cook Community Center, San Anselmo
Fridays, 10:15–11 am
In the class, you and your child will explore different textures, scents, and colors together through a wide range of exciting (and safe!) mediums. We will learn about clay, paper–ripping, glue, different kinds of paint, pompoms, buttons and beads, fabric and yarn, and so much more. Parents will be encouraged to explore and observe how their child interactswith the materials and how their child responds to the materials. Location: doodlebug Art Studio, 1000 Sir Francis Drake Blvd., San Anselmo. For more info, call (415) 258-4640 or visit their website.
Toddler Tumbling
Isabel Cook Community Center, San Anselmo
Starting September 11, Various days & times
Our toddler tumbling classes combine instructor initiated activities with children's freedom of exploration. There is circle time with songs and rhymes and plenty of time for free play, which helps the young child to develop large motor skills through age appropriate activities. Parent participation is required for all Toddler Tumbling classes. To register, call (415) 258-4640 or visit their website.
Fairfax
Community Music Class
Fairfax Women's Club
Starting September 11, Mondays 10–10:45 am
Come join us for 45 minutes of music and play, including rhythmic rhymes, songs and instrument play.  During this lively session, young ones learn traditional folk songs and hands on music and circle games.  The class is informal, non-performance-oriented and developmentally appropriate for children and parents/caregivers.  Music selection will primarily be based on requests, so be ready to sing your favorites, and learn a few more! *No prior musical experience necessary. Cost: $15 drop-in per child (up to 2 children). Location: 46 Park Road, Fairfax. For more info, visit their website.

New Parents and Babies Group
Fairfax Community Center
Starting in September, Tuesdays, 11 am–12:30 pm
New Moms and Babies Group for anyone with a baby 0–12 months old. This group offers a safe and supportive environment conducive to sharing about topics such as emotional and physical recovery after birth, expectations surrounding being a mother, changes in lifestyle and in relationships, finding support, trusting caregivers, life balance and sleep, navigating medical care, child development, play and temperament, among other topics and issues. First visit free, $35 annual membership fee to Fairfax Moms. Location: Fairfax Community Center, 16 Park Road, Fairfax. For more info, visit their website.
Stroller Strides Workout
San Anselmo Memorial Park
Tuesdays, 9:30–10:30 am
Join Fit4Mom Marin for Stroller Strides workout. The class consists of a warm up, a power walk/optional running and "stations" where we do a variety of body toning exercises. We use exercise tubing (which we provide you with), the stroller and the environment to create our gym. If your baby is fussy, instructors will gladly help rocking your stroller or show you exercises that you can do with your baby. Location: 000 Sir Francis Drake Blvd, San Anselmo. Meet in front of the parking lot on the grassy area. For more info, call (415) 734-8174 or visit their website.
San Rafael
Novato