Back to top
Presidio Twilight Returns (May 23) for Another Summer of Food and Family Fun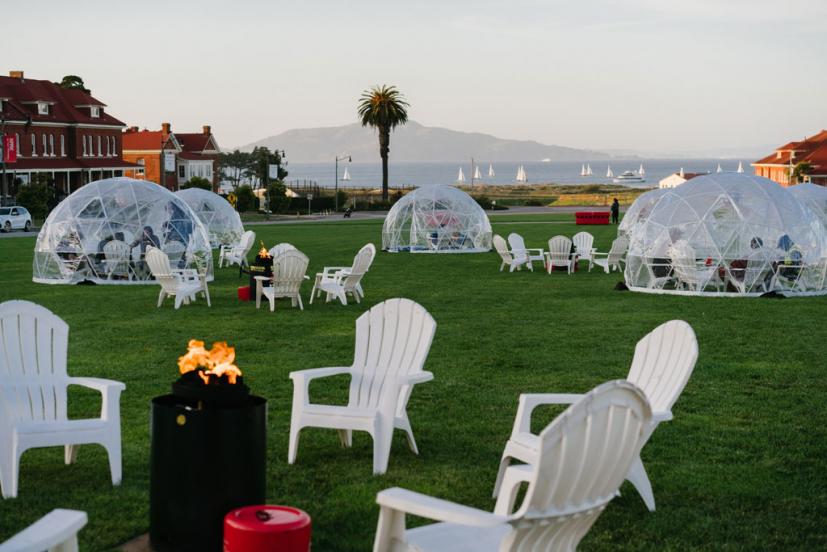 Join Off the Grid and the Presidio Trust for the fifth season of Presidio Twilight! Opening Thursday, May 23 on the Main Parade Ground of the Presidio, Presidio Twilight runs every Thursday through early September from 5 to 9 pm and features a large selection of international cuisine, live music, sunset activities, and the ambiance of San Francisco's national park for a one-of-a-kind experience. Fire pits and lantern-lit cabanas and communal lawn domes (new this year) underscore the "picnic at dusk" atmosphere and are available to all on a first-come, first-served basis at no cost.
Additional event activities include traditional games such as bean bag toss, hula hoops, and giant Jenga. Once a month, San Francisco astronomers bring giant telescopes for all to enjoy star gazing. Off the Grid Twilight is the companion event to the popular Presidio Picnic, which take place on Sundays from 10 am to 4 pm.
Presidio Twilight's 2019 lineup includes Bay Area favorites showcasing cuisine from around the world including authentic Neapolitan pizza from Mozzeria, artisanal empanadas from El Porteno, Asian noodles from Sip n Slurp, and more. Start your evening early at the Presidio Visitor Center for an excellent overview of the park's many offerings and to pick up any forgotten gear like a warm fleece jacket, blanket or flashlight (open 10 am to 5 pm daily). After dinner, take a night hike, go bowling, or to take in a free program at the Presidio Officers' Club.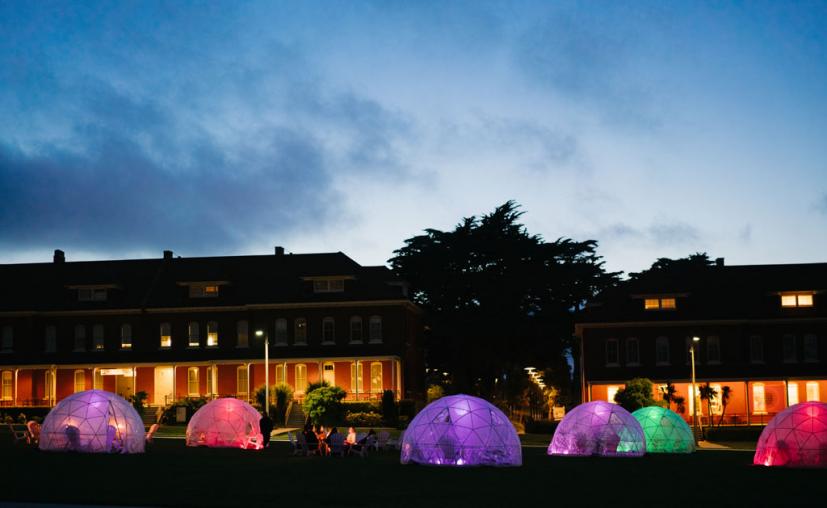 Like Presidio Picnic, Presidio Twilight is designed with sustainability in mind. All materials provided by food vendors are compostable, no plastic water bottles are sold, and participants are encouraged to follow the "leave no trace" ethos including accessing the park without their car. A free natural gas shuttle, PresidiGo Downtown Shuttle provides regular service to major transit lines, Muni provides direct service, and miles of trails and bikeways provide an alternative way to get to the park.
Presidio Twilight is located on the historic Main Parade Ground, bordered by Montgomery Street, at Lincoln Boulevard. For additional ways to access the Presidio, visit presidio.gov/transportation or Presidio Twilight's Facebook page for directions from neighborhoods within San Francisco and from East/North/South Bay regions.
To learn more about this year's Presidio Twilight season, visit presidio.gov.
Photos: Jesus Camacho/Presidio Trust
Sign up for tips & news for Marin families!