Back to top
Summer (FUN!) Writing Workshops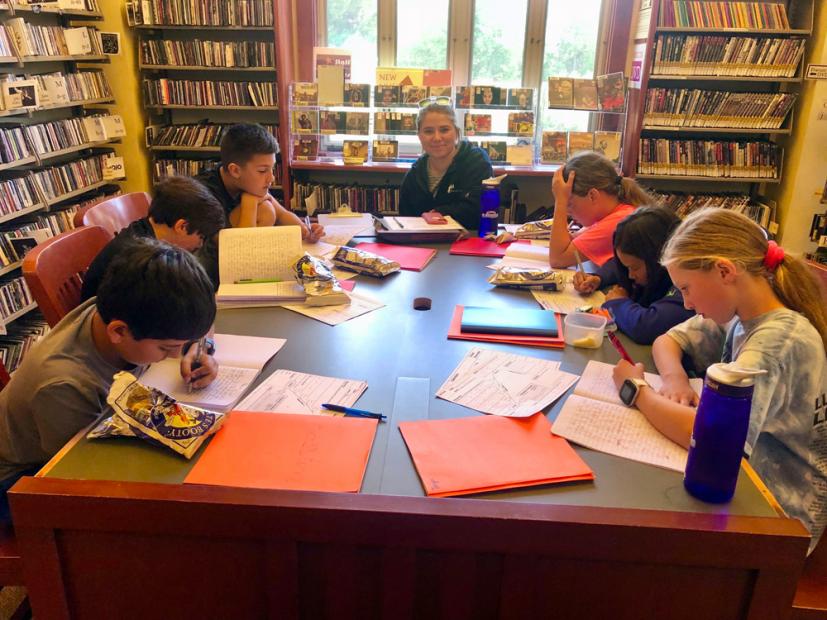 Marin Mommies presents a sponsored shout-out from Dana Lomax and daughter Una Lomax-Emrick, pictured here teaching last year's workshops at the Belvedere-Tiburon Library.
The Summer (FUN!) Writing Workshops are geared toward fun-filled writing experiences, ones that increase children's love of language and hone their composition skills. Summer writing camps can be a hard sell for some students. That's why the Summer (FUN!) Writing Workshops combine rigorous study of grammar and style with fresh writing activities. Students will work in multiple genres, build their grammar and composition skills, explore their creativity, and further their love of the literary arts. Together we will improve our writing and enjoy the process! This workshop is sure to be a blast! Each week emphasizes different literary techniques and academic skills.
Join us for one week or all four!
In light of the COVID-19 outbreak, the Summer (FUN!) Writing Workshops have transitioned to an online format to protect our students and community. While nothing beats in-person instruction, these distance learning experiences will be engaging, fun, and academically impactful. As a result, class sizes have been greatly reduced and are now limited to 7 participants per session (either morning or afternoon) per week. These smaller sessions allow for individualized instruction and customized lessons. We look forward to working with you! 
To register, please visit our website : www.danateenlomax.com/summer-writing-workshops.html. 
These one-week sessions are led by Dana Lomax, an award-winning writer and educator who currently teaches at Del Mar Middle School in Tiburon. Her daughter and co-teacher, Una Lomax-Emrick, is a published writer and English Major at Brown University.
Sign up for tips & news for Marin families!