Back to top
Little Tree Art Studio- Doll Design Camp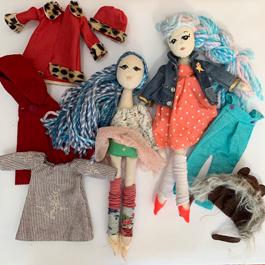 During this 8 day Little Tree sewing camp, Little Artists will make a doll and design and sew one costume/outfit from head to toe. Create a fancy outfit
for the Oscars, a rocking outfit for a music video, a gown for a wedding, or a funky costume for a party- the possibilities are ENDLESS! And don't
forget accessories; hats, shoes, glasses, bags and jewelry!! We have a TON of fabric options for your dolls clothing.
Camp includes:
Fashion Sketchbook
16 inch cloth Doll
Embroidery Lesson for dolls face, colored yarn hair will also be added.
Students will gain sewing machine skills making their dolls outfit.
Receive a packet of clothing patterns.
Students will learn to weave a small backpack for their dolls.
Camp dates: June 22–July 1, 2020
Hours: 9 am–3 pm, Before care and after care are available.
*If you have taken this class before you may join again to make more clothes! Children will have free time throughout the day to explore other mediums or make and build more items for their dolls.
Summer camp activities:
Art and Crafts
Fashion Design
Summer camp age level:
Grades 6 to 8
Grades 9 to 12