Back to top
Marin Christian Academy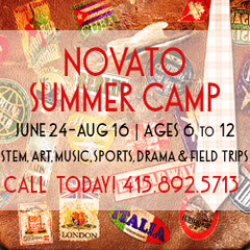 "Traveling the World" is the theme of our camp! A perfect balance of fun experiences and trips with and emphasis on education.
Summer Camp Dates: June 17–August 16, 2019
Hours: 9 am–5 pm; before care and after care available
Registration Fee- $60, Weekly Rate- $190 1st child,  $180 2nd child, $170 3rd child. 10% off purchase of 4 weeks blocks.
Summer camp activities:
Academics
Aquatics and Swimming
Art and Crafts
Baseball
Basketball
Day Camp
Environmental
Leadership
LEGO and Engineering
Music
Religious
Science and Nature
Special Needs
Sports and Fitness
STEM and STEAM
Technology and Coding
Summer camp age level:
Grades K to 5
Grades 6 to 8