Back to top
Theater Summer Camps for Kids in Marin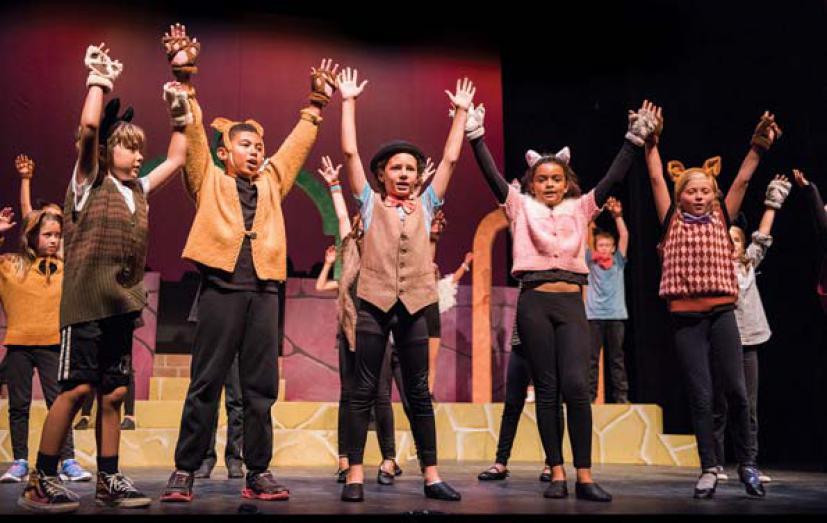 Photo: Michael V. Dyett/ Marin Theatre Company
If you have a young Shakespearean or budding Broadway musical star at home, why not hone their talents at one of the theater camps being offered this summer in Marin. Here's a list of 2017 camps that have a focus on acting and musical theater in Marin County.
Marin Shakespeare Company Summer Camps
Location: Novato, Ross, San Rafael
Ages: 4–18
Dates: June 12–August 11
Cost: $200–$925 per session
Marin Shakespeare Company offers camps for kids ages 5 through 18 at locations throughout Marin. The youngest campers can enjoy learning Shakespeare's Stories at Forest Meadows Amphitheatre in San Rafael. Older kids ages participate in Young Company (ages 8–12) at Forest Meadows, Lynwood Elementary School in Novato or Marin Art and Garden Center in Ross or Tennis/Drama (ages 8–14) at Forest Meadows and Marin Tennis Club in San Rafael. Teens can participate in a summer performance of Love's Labour's Lost. For more info, visit www.marinshakespeare.org.
Marin Theatre Company Summer Camps
Location: Mill Valley
Ages: 5–18
Dates: June 19–August 4
Cost: $475–$1,050 per week
Marin Theatre Company in Mill Valley offers three Summer Performance camps. Creative Dramatic Camps is for kids grades K–2 that focus on social and artistic development through creative dramatics, improvisation, and theatre games.Youth Camp offers two Production Camp options and 3 week-long Creative Dramatics Camps for grades 2–6. Teen camp for grades 7–12 also runs a 4-week afternoon camp for teens to perform in a production of Seussical, Jr! For more info, visit www.marintheatre.org.
Novato Theater Company Summer Stars
Location: Novato
Ages: 8–17
Dates: TBA
Cost: $375
NTC Summer Stars gives children ages 8-17 the opportunity to have lessons in acting, Improvisation, Voice, and Dance; students rehearse and perform an original play with popular music; students participate in production related tasks such as scene painting, costume and prop construction, and make-up application. $350 early bird price; 15% off for returning students. For more info, visit www.novatotheatercompany.org.
Acting Out at the Throck
Location: Mill Valley
Ages: K–9th Grade
Dates: June 19–July 21
Acting Out at the Throck, Throckmorton Youth Programs' summer camp in Mill Valley, offers an engaging theatrical experience for performers of all backgrounds and abilities. Session 1, 2nd–5th graders, runs from June 19–July 7 and includes a production of Honk! Jr., a delightful adaptation of the ugly duckling tale. Session 2, for 6th–9th graders is a Broadway Heroes and Villains, which explores memorable characters of musical theater and takes place July 10–21. Fees: $1,200 or $800. For more info, visit www.throckmortontheatre.org.
23 Elephants Theatre Company-Dream Big!
Location: Larkspur
Ages: 8–19
Dates: June 19–July 23
23 Elephants Theatre Company is teaming up with Marilyn Izdebski and the Redwood High Community Education Program to offer an amazing summer of singing, dancing, hip-hop f and laughs with a Broadway Workout and two great shows. Young people ages 7–12 will participate in a production of Madagascar, directed by Ashley Kimball and Bidalia Albanese, from June 26–July 15. Older kids ages 12–18 will rehearse and perform Young Frankenstein, directed by Steven Hess, from June 19–July 22. Fee for either camp is $595 and includes acting, singing, and dance training; rehearsal hours; production work; and two dance classes per week. Camps take place at Redwood High School in Larkspur. For more info, visit www.23elephants.org.
NY Broadway Training Programs
Location: TBA
Ages: 7–15
Dates: July 31–August 11
Taught by New York Broadway professionals, these half-day and full-day camps offer an all-inclusive performaing arts experience. Camps include a Training Camp, with classes in dance, voice, musical theater, acting, and more and a Performance Camp, where campers put on a Broadway-style show. Daily snack provided, and there's a pizza party on the second Friday. www.MarissaJoyGanz.com/broadwaycamps
Stapleton School of the Performing Arts Musical Theatre Camp
Location: San Rafael
Ages: 5–14
Dates: 2 sessions: July 10–4 & August 7–11
Stapleton School offers offer 2 sessions, one July 10-14 for 5-8 year olds and one August 7-11 for 8-12 year olds. For more info, visit www.stapletonschool.org.
PAAM Summer Camps
Location: Mill Valley
Ages: 6–High School
Dates: June 13–August 19
PAAM's summer musical theater programs in Mill Valley offer a new musical theme each week that results in the creation of a 20–30-minute musical performance. Each camper receives a role, speaking lines, and a solo if desired. Musical theater camp sessions take place June 13–17 and 20–24, June 27–July 1, July 11–15, 18–22, and 25–29, and August 1–5, 8–12, and 15–19, and are for ages 4–13+, depending on session. Fee: $445 per week. For more info, visit www.paamarin.com.
Photo: Marin Shakespeare Company
Today's Events
Wednesday, February 21, 2018