Back to top
Theater Summer Camps for Kids in Marin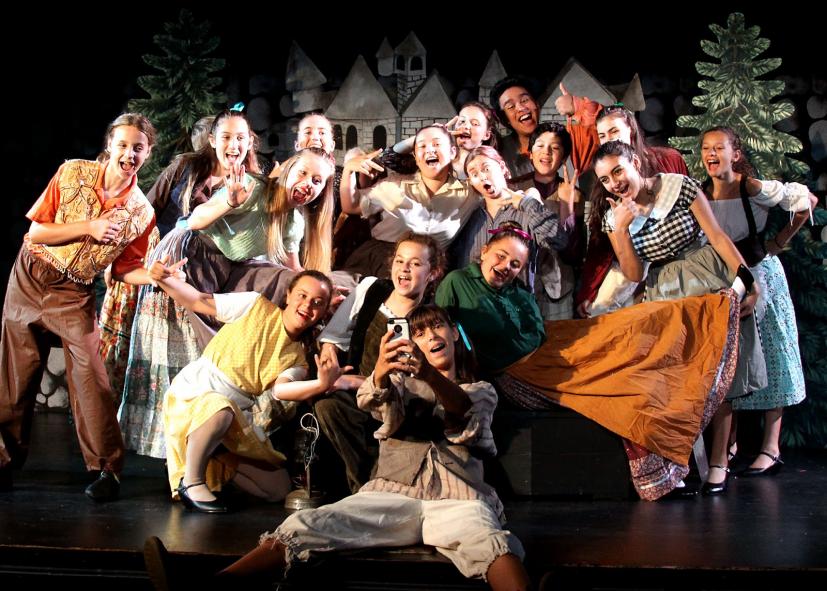 Photo: 23 Elephants Theatre Company
If you have a young Shakespearean or budding Broadway musical star at home, why not hone their talents at one of the theater camps being offered this summer in Marin. Here's a list of 2018 camps that have a focus on acting and musical theater in Marin County.
23 Elephants Theatre Company
Location: Larkspur
Ages: 8–20
Dates: June 18–July 22
23 Elephants Theatre Company will once again offer an amazing summer of singing, dancing, hip-hop, and laughs with a Broadway Workout and two great shows. Young people ages 7–12 will participate in a production of Alice in Wonderland, Jr. and teens ages 12–20 will perform in Into the Woods. Rehearsals and performances take place at Redwood High School in Larkspur. 23 Elephants also offers a Hip Hop Bootcamp for ages 8–17 and a Hamilton Broadway Workout for kids in grades 6 to 10. For more info, visit www.23elephants.org.
Acting Out at the Throck
Location: Mill Valley
Ages: K–9th Grade
Dates: June 18–July 21
This summer Throckmorton Youth Performers offers two sessions of musical theatre summer camp based on Hairspray and packed with acting, singing and dancing and a final series of productions on stage. Each session offers rich, engaging theatrical experiences for young performers of all backgrounds and abilities, taught by a staff of professional artists who teach and perform in the Bay Area. For ages 8–18. For more info, visit www.throckmortontheatre.org.
Katia & Company
Location: San Anselmo, Larkspur, Novato
Dates: July 9–27
From auditions to performance, each camp offers the full theater experience in just one week! Daily schedule includes musical theater workshops, rehearsal, arts and crafts workshops and theater games. Parents and friends are invited to an informal performance at the end of the week. Summer productions include Moana, Into the Woods, The Little Mermaid, and The Sound of Music. www.katiaandcompany.com/day-camp
Marin Shakespeare Company Summer Camps
Location: Novato, Ross, San Rafael
Ages: 4–18
Dates: June 18–August 17
Marin Shakespeare Company offers camps for kids ages 5 through 18 at locations throughout Marin. The youngest campers can enjoy learning Shakespeare's Stories at Forest Meadows Amphitheatre in San Rafael. Older kids ages participate in Young Company (ages 8–12) at Forest Meadows, Lynwood Elementary School in Novato or Marin Art and Garden Center in Ross or Tennis/Drama (ages 8–14) at Forest Meadows and Marin Tennis Club in San Rafael. Teens can participate in a summer performance of Pericles. For more info, visit www.marinshakespeare.org.
Marin Theatre Company Summer Camps
Location: Mill Valley
Ages: 5–18
Dates: June 18–August 3
Marin Theatre Company in Mill Valley offers three Summer Performance camps. Creative Dramatic Camps is for kids grades K–2 that focus on social and artistic development through creative dramatics, improvisation, and theatre games.Youth Camp offers two Production Camp options and 3 week-long Creative Dramatics Camps for grades 2–6. Teen camp for grades 7–12 also runs a 4-week afternoon camp for teens to perform in a production of The Lion King Experience. For more info, visit www.marintheatre.org.
NY Broadway Training Programs
Location: TBA
Ages: 7–15
Dates: July 30–August 10
Taught by New York Broadway professionals, these half-day and full-day camps offer an all-inclusive performaing arts experience. Camps include a Training Camp, with classes in dance, voice, musical theater, acting, and more and a Performance Camp, where campers put on a Broadway-style show. Daily snack provided, and there's a pizza party on the second Friday. www.MarissaJoyGanz.com/broadwaycamps
PAAM Summer Camps
Location: Mill Valley
Ages: 6–High School
Dates: June 18–August 17
PAAM's summer musical theater programs in Mill Valley offer a new musical theme each week that results in the creation of a 20–30-minute musical performance. Each camper receives a role, speaking lines, and a solo if desired. For more info, visit www.paamarin.com.
Sign up for tips & news for Marin families!