Back to top
Tips for a Sensational Spa Birthday Party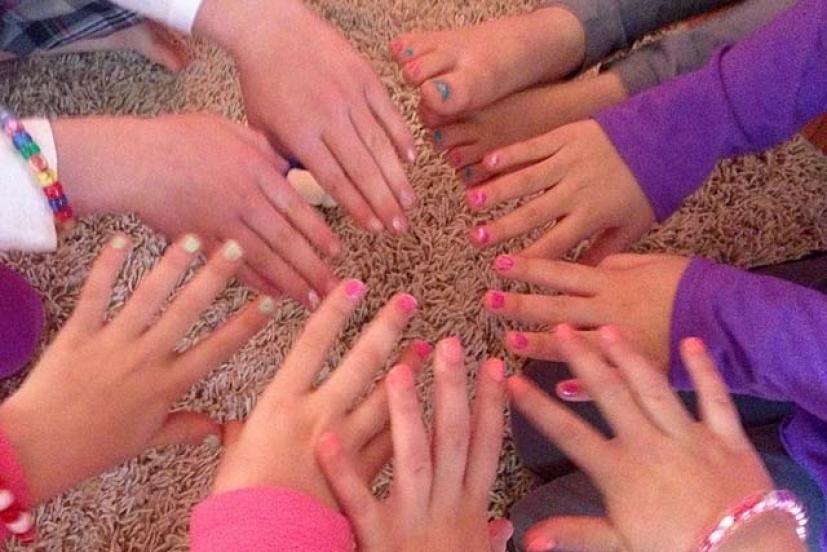 My daughter recently turned eight, and she decided on a spa theme for her birthday party. I wasn't sure where to begin, but we made a list together of things she wanted for her party, and with a little research and planning, it all came together. When the day of the party arrived we were both thrilled with the results, and her friends were, too! I forgot how much work it was to plan a party like this, but I wouldn't have done it any other way.
I thought I'd share a few or our tips and must-haves for a successful kids' spa-themed birthday party. Much of what we did was inexpensive and easy to put together, and everyone really had a good time.
Decor and Ambience
The first thing we did was to plan the party decor, and our main task was transforming our family room into a tranquil spa. My daughter picked out a color scheme of pink and black, so to close off the room from the kitchen, we made curtains out of pink and black crepe paper.
We blocked off another hallway with a curtain made from some sheer pink fabric, behind which we hung white mini lights. This gave them a soft ethereal effect. Since I could see through the sheer curtain into the other room, I hung a piece of pink plastic tablecloth behind the lights.
We strung more white Christmas tree lights around the room, and accentuated them with some purple LED fairy lights that I found online, as well lots of LED candles (for safety) and a pink lightbulb that I ran across at the hardware store. The lighting helped set the mood perfectly. I actually took the fairy lights and submersed them in mason jars that held some pink flowers (the lights are waterproof), and this added an enchanting glow.
A spa music playlist playing softly in the background was the perfect touch. A couple of the moms who came by to drop off their daughters wanted to stay and relax in our spa, too, but this was a kids-only affair!
The Dollar Tree was a life-saver with their new spring flower decorations, which I hung from the ceiling throughout the room. Plenty of balloons helped keep things festive, too.
Spa Activities and Party Favors
I made spa baskets for each of the five girls, which were for both the spa acitivties and favors to take home. Baskets included a small heart-shaped pillow, a pink face mask, a hairbrush, hair bands, lip gloss, and a pink bath scrubby. I picked up most of these items in the $1 section at Target, and off the post-Valentine's day sale shelf.
For the spa, we used our bath scrubbies for foot baths (using small pink plastic tubs from Dollar Tree, which were perfect), and painted finger and toe nails. I collected various colors of nail polish from the clearance section at Target, so I didn't have to spend a lot of money there.
We also did facials with a homemade avocado-honey mask, cleaning it up with warm washcloths afterward, as well as cucumber slices for the eyes. We also had a station for hair brushing pre- and post-facial.
One of the best things that I did was to get two older girls (the sister of one of the party guests and her friend) to help out. They pitched in and painted nails and ran the spa, and had a great time doing it. My son also enterainted by performing some well-rehearsed magic tricks for the girls while they were soaking their feet and getting their nails done.
We took plenty of photos of the spa in action, which we're transforming into a video in iMovie to share with everyone. We also set up a "photo booth" with funny props, which was also a big hit.
Finally, we played Spa Bingo where the girls won prizes—we made sure that everyone won a round. I created the bingo cards online at an educational website and was able to download and print the cards and call lists for free onto some pink and purple card stock that I had in the crafts drawer.
Spa Party Food and Drink
Of course we couldn't have a spa party without spa food and drink! I filled a water jug with water, ice, and slices of fresh organic strawberries and Meyer lemons. This tasted fantastic and was a big hit with everyone. It also looked beautiful sitting on the counter.
Partygoers also snacked on fresh fruit skewers and whole-wheat pretzels and drank pink lemonade. We also had pizza, mini cupcakes, and strawberry ice cream, which aren't exactly spa food, but it's a kids' birthday party, so it's OK, right?
All in all, our party was a huge success, and my daughter can't stop talking about it—she's already planning her spa party for next year's birthday! One of the most important things that I did was to make sure that the spa was organized and that my helpers were in place and ready to go at their stations. Things can get pretty crazy pretty fast—it's a kids' birthday party after all—but some organization really keep things running smoothly. You can spend as much or as little as you like on your spa party, but it should be a blast no matter what you do!
Sign up for tips & news for Marin families!