Back to top
Virtual Summer Arts Education Programs from Stern Grove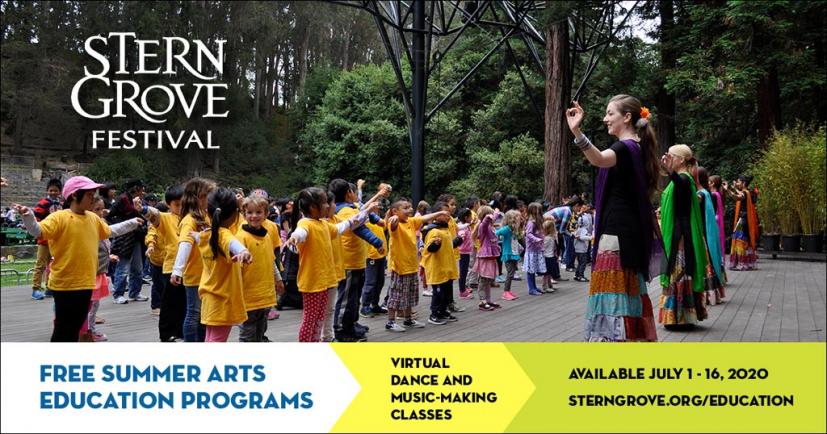 San Francisco's Stern Grove Festival, a Bay Area tradition since the 1930s, isn't taking place this year due to the COVID-19 pandemic, but you can still take part in fun and educational music and performing arts programs online this summer! Designed to inform, engage, and inspire, Stern Grove's online dance and music-making classes are for kids of all ages and will take place from July 1–16, 2020. The schedule is as follows
Week One:
July 1 - Bhangra with Dholrhythms (dance)
July 2 - Drumming with Rhythmallogy (music making)
Week Two:
July 8 - Bomba with Aguacero (dance)
July 9 - Music Making with Kev Choice (music making)
Week Three:
July 15 - Hip-Hop with Jessica Recinos (dance)
July 16 - Voguing/wacking with Jocquese (dance)
Registration is not required and classes are offered for free. For more information, visit www.sterngrove.org.
This summer, Stern Grove is also presenting Best of the Fest, a series of video playlists featuring epic performances and footage from their archives, beautiful scenery of the Grove, and special guests. Best of the Fest airs every Sunday at 4:30 pm, June 14–August 16 on KPIX-TV/Channel 5 with season host Liam Mayclem. An extended version of the show will be posted on their website, Facebook page and YouTube channel at 5 pm each Sunday.
Sign up for tips & news for Marin families!