Back to top
23 Elephants Theatre Company presents: The Halloween Misfits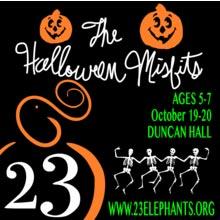 23 Elephants Theatre Company presents Halloween Misfits. In this charming story, you will meet a group of characters known as "The Halloween Misfits," from the ghost who can't "boo" to the skeleton that can't "rattle," and much, much more. Join the fun as these adorable misfits not only entertain you, but also deliver a very important message to all!
A delight for young audiences and parents alike, this show will definitely get you in the Halloween spirit. Audience members are encouraged to come in costume and stay for a little Halloween party afterwards. There will be candy and prizes for all!
When: 1:00pm (doors open at 12:30pm)
Where: Duncan Hall, 72 Kensington Road, San Anselmo, CA
Tickets: $15. Purchase tickets here.
Tickets stop selling on the website 3 hours before curtain, however, tickets will be available at the door!