Back to top
Animation + Anime July 20-24, ages 7-14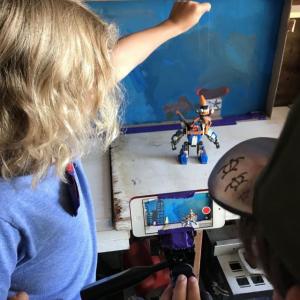 Create a world of imagination. Character design, making 3-D models, scenes, storytelling, and having it all come to life with learning about stop motion animation. Working from traditional cartooning while creating a comic strip/story board, turning those into a book and finishing with models, magic and computer animations. Fine art techniques are incorporated into this STEAM  inspired camp. Technology, learning proportion, how to create exaggerated figures for story making, and the art of perspective are all found in this camp.
1/2 day available for ages 5-14, 9:00-12:00
full day available for ages 7-14, 9:00-3:00 (registration reflects 1/2 day pricing, the remaining amount is due the first day of camp)
extended day is available from 3:00-5:00 ($15 each hour). The remaining balance will be taken on the first day of camp.
Studio 4 Art are experts in their field, teaching for over 18 years, and are a true studio for art! We offer age-appropriate projects celebrating each individual. Diversity, creativity, problem-solving, and creating leaders one art project at a time ™ are our goals. WE LOVE ART and what each child brings to their projects making them personal and meaningful. Watch your child shine with pride through their art-making!