Back to top
Bicycle Tour "Bike the Watershed IX"
Jury Duty Parking Lot Marin County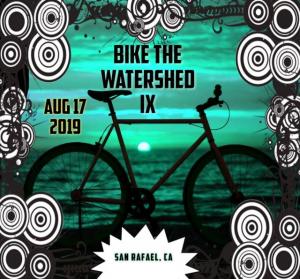 Come ride you bike with us on August 17, 2019 from 10 AM to 2 PM.
GWC and MCBC invite you to our ninth annual free bike ride & picnic.
We start at the Marin Civic Center and enjoy a scenic 8-mile bike ride through the Gallinas Watershed in North San Rafael.
Our mostly flat route takes us from Santa Venetia to McInnis County Park and back through Terra Linda. This all ages event lets you enjoy the scenery and learn about our watershed with regular stops along the way!
At the end of our ride celebrate with a picnic at the Civic Center lagoon.
We meet at the Marin Civic Center Jury Duty parking lot: https://goo.gl/maps/95zVGw2RbSNjbWeH9