Back to top
Book Place Anniversary Sale!
1608 Grant Avenue
(Parking is behind the store, enter off 7th St)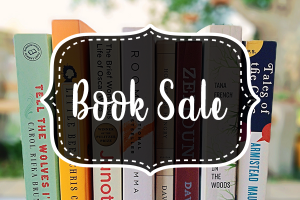 To celebrate the Book Place's 17th Anniversary, they're having a MONTH-LONG sale on selected categories throughout April.
The sale begins March 29, and will feature rotating specials among the 50+ categories in the store, so there's no telling WHAT you'll find for your shelves. We'll start with a big special on beautiful Art/Collectibles, at 1/3 off the sticker price. It's a great way to find gifts for upcoming birthdays, Easter, or any occasion.
To celebrate Spring, customers can hunt for the sales by looking for the big spring flowers that will mark special pricing. We'll move the flowers around several times throughout April, and we hope you'll find your favorite categories on special! Movies and music are also possibilities sometime during the month.