Back to top
Carquinez Model Railroad Society Open House
Carquinez Model Railroad Society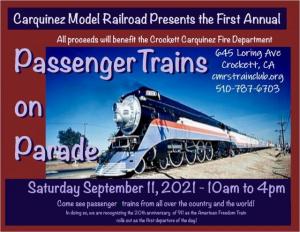 To help commemorate 9/11, this Saturday the Carquinez Model Railroad Society will be having an Open House with all proceeds being donated to the Crockett Carquinez Volunteer Fire Department.
The theme of this Open House is Passenger Trains on Parade, with the American Freedom Train leading the parade followed by passenger trains from across the Nation and world.  As always, we'll have friendly members happy to answer your questions.
We're located at 645 Loring Avenue in Crockett across from C&H Sugar.  Our 36'x60' HO scale model railroad (on three levels!) depicts the Southern Pacific/Union Pacific railroad from Oakland, across the Sierra Nevada mountains, to Sparks, NV.  Admission is $5, with those under 16 free when accompanied by an adult.  Visit us on-line at www.cmrstrainclub.org.
We hope to see you soon!
In accordance with Contra Costa County health rules, all participants must be masked.