Back to top
Crockett Model Railroad Open House
Carquinez Model Railroad Society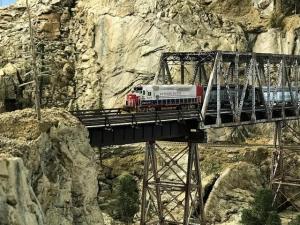 Come join the Carquinez Model Railroad Society in Crockett on August 10 from 10 AM to 4 PM for our Summer Open House!  We're located at 645 Loring Avenue in Crockett across from C&H Sugar.  Our 36'x60' HO scale model railroad (on three levels!) depicts the Southern Pacific/Union Pacific railroad from Oakland, across the Sierra Nevada mountains, to Sparks, NV.  Our unique model railroad allows you to closely follow a train as it traverses the railroad.  And our members are always to answer your questions!  Admission is $5, with those  under 16 free when accompanied by an adult.  Visit us on-line at www.cmrstrainclub.org.
The Bay Area N-Trak N scale model railroad located in the Crockett station at 900 Loring will be open as well from 10 AM to 3 PM.  Donations are suggested.
So come join us and see three great model railroads in one trip!  See you soon!
Matching Funds provided by the Crockett Community Foundation