Back to top
Donation Dance Class for Ouchless ER Campaign - Pain Free Vaccines
1 Thorndale Drive
The Garage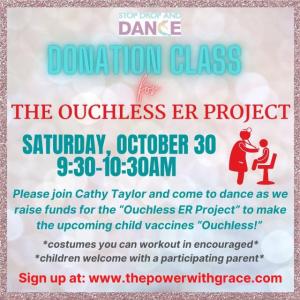 The "Ouchless ER Project," created by Cathy Taylor President of the Ouchless ER Project and Marin Mom, has set a fundraising goal of $10,000 to provide supplies to make the upcoming large-scale COVID vaccination clinics in Marin County child-friendly! "Ouchless" care is an approach that helps make medical procedures as painless and anxiety-free as possible for children.
Join us on Saturday, October 30th at 9:30am on Zoom or in "The Garage" at 1 Thorndale Drive in San Rafael as we dress up for Halloween and dance for this historical event: Making COVID-19 Vaccinations for Kids as "ouchless" as possible!
Stop, Drop & Dance! Class is taught by Grace Yu, is a 60 minute high energy class you won't find anywhere else! A fun, easy-to-follow, cardio dance workout with orgiinal choreography to pop and hip hop music is exhilarating and mood boosting. Costumes you can dance in are encouraged and kids are welcome with participating parent. 
"Ouchless" ER Project is aimed at advocating for improving the quality of emergency care children receive from the time they enter the emergency system until they are discharged from their local community hospital. "Ouchless" care treats both the physical and emotional needs of our littlest patients and their families. 9 out of 10 emergencies are taken to community hospitals not hospitals that specialize in pediatrics. Helping smaller hospitals strive to improving staff competency on pediatric specific equipment, proper pain control, and use of distraction techniques can lead to the best outcome when an emergency arises. By raising awareness of the resources available, we can also help parents know what to do and what to ask for. If you wonder about the hospital nearest your home......then it's a good time to start asking the right questions. 
We have an anonymous donor who will generously match up to $5000 of what we raise! But we need YOU to help spread the word and invite friends to join, especially if you live in Marin County and have a child between the ages of 5-12, because this "Ouchless ER Project" fundraiser is for YOUR FAMILY!
Donations appreciated even if you are not interested in dancing, or cannot make the class.
Donate here: https://www.eventbrite.com/e/195673834707
@thepowerwithgrace
@stopdropanddanceofficial
#thepowerwithgrace
#stopdropanddance
#ouchless
#ouchlesser
#er
#emergencyroom
#emergencymedicine
#pediatrics
#pediatric
#pediatriccare
#marin
#marincounty
#sanrafael
#vaccine
#vaccines
#vaccinesforkids
#kids
#donationsneeded
#donationsappreciated
#fundraiser
#danceforacause
#dancetogether
#morethandance
#giveback
#togetherwearestronger
#changetheworld
#historicalevent
#vaccinatedandhappy
#exerciseismedicine
#exercisemotivation