Back to top
Drop-in Art Program: Clay Studio
Bay Area Discovery Museum-Art Studios: Tactile Table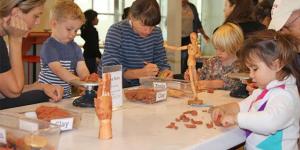 Using special polymer clay, children can sculpt, carve, and add details to their own one-of-a-kind sculptures. Free with museum admission.
General Admission
General Admission tickets include access to all indoor and outdoor exhibits, plus a wide range of daily drop-in programs.
$1 – For EBT Cardholders ($1 per family member of the household)
$13.95 – Baby (ages 6-11 months)
$15.95 – Child (ages 1-17)
$15.95 – Adult (ages 18-64)
$13.95 – Senior (ages 65+)
Become a member and visit as often as you like throughout the year, while enjoying a number of additional membership benefits. If you visit three or more times this year, a membership pays for itself! You can also apply the cost of your admission toward a membership on the day you visit!