Back to top
Drop-in: Hamilton Community Pool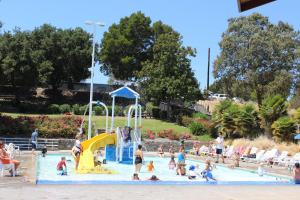 Recreational swim sessions cost $7 for Novato resident adults and $10 for non-residents. Admission for resident youth is $5 and $8 for non-residents. You can get a 15-swim punch card for $64/$104 youth and $91/$130. Season passes are $100/$120 youth and $140/$160.
Proof of residency required for Novato resident rates. Non-residents who work in Novato also pay resident rates (proof of employment required). Advance reservations are not required this year.
The Hamilton Community Pool is located at 203 El Bonito Drive in Novato's Hamilton area. To get there, take Highway 101 to the Ignacio Boulevard/Bel Marin Keys Boulevard exit. Go to the east side of the freeway and take Nave Drive south to Main Gate Road. Follow Main Gate Road to South Palm Drive, then turn right on Hamilton Parkway. Turn right on San Pablo Avenue, and turn left at the traffic circle onto Sunset Drive. Follow Sunset and turn left onto El Bonito Drive. Plenty of parking is available in the lot behind the pool.
The Hamilton Community Pool also offers private swim leasons with registration beginning May 24. For more information, call (415) 485-3344 or visit their website.