Back to top
Exhibit! Science + You
Bay Area Discovery Museum
Fort Baker
557 McReynolds Road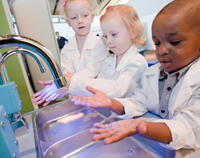 All children are scientists, and at the Bay Area Discovery Museum's new traveling exhibit, they can act the part! Science + You transports visitors to a replica laboratory, where they can don a lab coat and explore the machinery, processes, and technology that professional scientists use in laboratories every day!
At interactive stations, visitors will get to see firsthand the important connections between science and our everyday health and wellness.
In the Mixing and Separating Test Lab, visitors can manually separate liquids and solids and explore how different types of real lab equipment functions to perform this task.
The Magnification Area features specialized equipment that magnifies objects on a large screen, so visitors can get an up-close look at an array of natural and man-made items.
In the Test Kitchen, visitors will make "healthy soup" from a variety of ingredients that represent the five food groups, so visitors can explore the importance of a balanced diet in a fun, interactive way.
Explore these stations and many more at Science + You!
Science + You is open at the Bay Area Discovery Museum September 23 through January 5, 2020.
Science + You has been sponsored by the AbbVie Foundation
General Admission applies:
General Admission tickets include access to all indoor and outdoor exhibits, plus a wide range of daily drop-in programs.
$1 – For EBT Cardholders ($1 per family member of the household)
$13.95 – Baby (ages 6-11 months)
$15.95 – Child (ages 1-17)
$15.95 – Adult (ages 18-64)
$13.95 – Senior (ages 65+)
Get $1 Off Online Tickets!
Purchase tickets online to receive $1 off each ticket.