Back to top
Family Music in the Park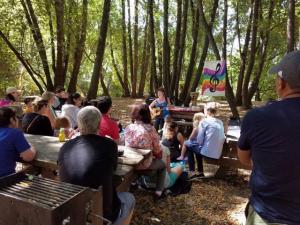 Miss Melissa, her drum and her guitar return to the forest for FAMILY MUSIC in THE PARK!
This event does not require any advance registration.
What is it?
Songs & Movement for Babies, Kids & Families!
Location: Miwok Park 2200 Novato Blvd Novato
(Active rain OR wet ground will cancel this event.)
Time: 10:30 to 11:00 am
Come a few minutes early to make an egg shaker that you can take home!
Parking tip:
You can park on San Miguel Way and enter through the "back" of the park. I will be under the trees near the picnic tables.
Cost:
FREE with a small donation requested (to go towards replacing egg shaker supplies.)
We will have about 20-30 minutes of songs and then please stay for picnicking, park play and creek stomping.
Come and sing a long!
Bring your family, your friends, your instruments, and your blanket.
No pets please.
See you there :) Melissa