Back to top
Fit4Mom Body Back preview class @ the Mill Valley Community Center!
Mill Valley Community Center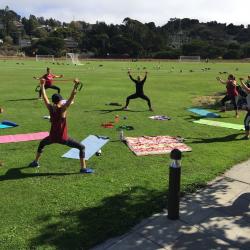 Come join us for a free preview of our Body Back Transformation Program this Friday morning, 9:30 - 10:30 am, at the Mill Valley Community Center! Bring a mat and water and be ready for a 60-minute challenging HIIT workout with stretch and meditation.  We'll take some time after class to discuss the program in more detail and answer all your questions!  Kidzwatch is available at the Center, hooray!  It's a safe and friendly environment and is only 6$ per child.  Please try to arrive a few minutes early if you're bringing the kiddo(s) so you can get them situated! 
http://www.millvalleyrecreation.org/facilities/aquatics_and_fitness/kidz...
Body Back® is a transformative health and wellness program for the Mama who is in need of some space and time to focus on her SELF. It will help you unlock your personal possibilities in an inspiring environment with an encouraging tribe. Classes offer high intensity, interval workouts along with before and after fitness assessments, a meal plan and food journal, coaching and support in a motivating and FUN program.  This class is for moms-only and is offered in 8-week sessions. Are you ready to reach your full potential? 
To participate in class please go to www.marin.fit4mom.com to sign up!
New 8 week - Body Back Session starts:
Body Back Mill Valley with Karen Friday March 23
Body Back San Rafael with Karen Saturday March 24
Body Back San Rafael with Liz Sunday March 25
***Moms MUST BE 3 month post partum to participate in this workout***
http://www.millvalleyrecreation.org
Please email Karin at karin@fit4mom.com with any questions!! We can't wait to meet you, Mama!!