Back to top
FREE Demo Soccer Classes
Homestead Valley Community Center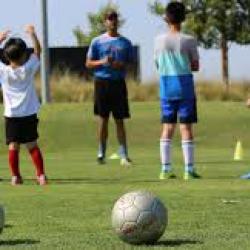 We are offering a FREE day of soccer classes for ages 2-3 years old, 12-24 month olds, 3-4 years old, and 4-5 years old at Homestead Valley Community Center in Mill Valley on Tuesday 11/6!! At Super Soccer Stars, it is our goal to teach soccer skills in a fun, non-competitive, educational environment. Our philosophy is to use soccer to nurture, to build self-confidence, and to develop teamwork in every class. Our specially designed curricula use positive reinforcement and a low child-to-coach ratio to ensure that each child improves at his or her own rate while having endless fun.
Class schedule:
9:30 AM- 10:10 AM for ages  2-3 years old. (Enroll in 2-3)
10:20 AM- 11:00 AM for ages 12 - 24 months old. (Enroll in 12-24 Months)
*(parent participation required in 12-24 month olds)*    
1:15 PM-2:00 PM for ages  3-4 years old. (Enroll in 3-4)                    
2:05 PM-2:55 PM for ages  4-5 years old. (Enroll in 4-5)
We hope to see you and your future soccer star on 11/6/2018!
Please visit our website for more information: http://la.supersoccerstars.com/bayarea/