Back to top
Free Summer Concert Series at MAGC
the Marin Art & Garden Center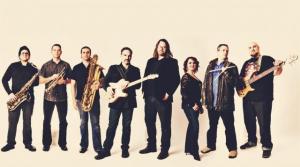 The Concert Series at The Marin Art & Garden Center is in its 13th year, and promises to be a great time for all! This year, we will have food trucks with amazing offerings for purchase. The Marin Art & Garden Center is a local non-profit that continues to offer engaging programming and community events made possible in part by generous financial contributions from our supporters. While there is a $10 charge for parking in the lot, it's donations that help keep this a free event, please consider contributing today. Concerts are on the iconic gazebo lawn on the grounds at MAGC Thursdays 5-7pm June 20 - August 1 2019. Please see our website, https://magc.org/ for further details.
Thursday June 20th 
The Big Fit
Food Truck - Casablanca Moroccan Food Truck
casablancamoroccanfood.com
The Big Fit is high-octane funk, soul, and rock with horns, organ, and groove wrapped up in the thick, juicy vocal harmonies. The Best kept secret in California, the Big Fit has been entertaining audiences with their unique blend of pop, funk, and rock music since 2005. Great songwriting and prodigious musicianship has earned them multiple music awards and seen them share with national and international acts.