Back to top
Green Gulch Family Program
Green Gulch Farm Zen Center,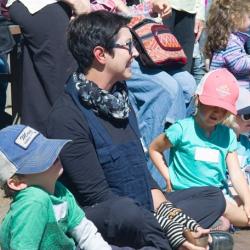 On the first Sunday of the month, we hold a special program for families. This begins at 9:45 am with a quiet song circle outside the zendo. At 10:00 am, we enter the zendo together where the lecturer will address the children. Then families proceed into activities including farm projects, mindfulness, movement, and ritual.
Our program aims to help children cultivate attention, empathy, and understanding and utilizes attunement to seasonal rhythms to foster well-being. A Youth & Family Program Practice Guide is available in our bookstore and includes many ideas for practicing at home as a family.
Each program closes with a community building circle at 11:45 am, sharing delicious muffins from the Green Gulch Bakery. After the program, families are welcome to attend the farmers' market outside the zendo.
2018 Family Program Schedule:
February 4: Mid-Winter Ritual: Blessing the Fields for Spring
March 4: Annual Spring Treasure Hunt
April 1: Buddha's Birthday celebration
Saturday, April 14: Zen-a-thon: FUNdraising for our Temples
May 6: Garden Day! Planting the Three Sisters
June 3: Summer Solstice Celebration
July 1: Interdependence Day!
August 5: The Joy of Generosity
September 2: Equanimity of Equinox
October 7: Ancestor's Ritual
November 4: The Attitude of Gratitude
December 2: Winter Solstice Celebration: The Buddha's Enlightenment
Please come prepared for the weather. We meet rain or shine and most of our programs are outside.
Sign-in and Song Circle begins at 9:45 am near the side entrance of the zendo. Our program ends at 11:45 am. We request that children are supervised at all times.
Suggested donation: $20 per family or as your means allow. No one turned away for lack of funds.