Back to top
Infant Massage With Trisha Almond - Three Class Series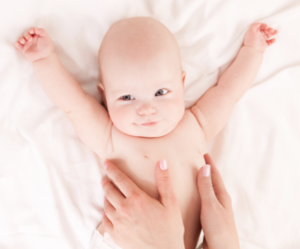 THIS IS A (3) 60-MIN CLASS SERIES SCHEDULED FOR 1/26, 2/2, AND 2/9
Learn to Communicate Your Love
Through Gentle Touch
Massaging your baby is a tactile translation of love, security and physical comfort - a dance between you and your baby.  During this series of infant massage classes, you will learn the same strokes that generations of parents all over the world have used, yet you will massage your baby as no one else can!
Benefits for you and your baby ...
Relaxes and soothes - nurturing touch is a naturally rewarding way to relieve stress for you and  your baby;
Deepens bonding - essential one-on-one time that will enhance your intimacy, understanding and ability to nurture;
Improves communication - Increasing your confidence and sensitivity to your baby's cues;
Contributes to development - stimulating growth and healthy development of your baby's body, mind and spirit;
It is empowering - enhancing your ability to understand your baby's special needs;
Helps baby sleep better - helping your baby release stress which builds daily from new experience means more rest for baby and you;
Helps relieve gas and the symptoms of colic - relief for your baby's tummy discomfort through specific massage techniques.
Register now through Village Child for this series of three one-hour classes - Jan 26, Feb 2 & 9 - and learn to deepen the bond between you and your baby.  This tactile translation of love may be shared between you and your child through their teen years!
Class fee is $75, register here