Back to top
Kids Mega Challah Bake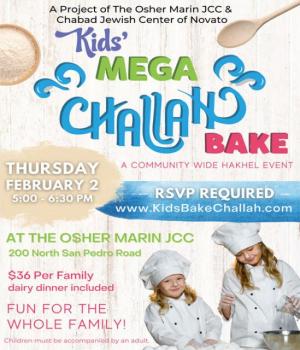 Calling all Jewish families with children! Come and join an interactive activity to do with your kids
 Our experienced bakers will guide your family through the process, step by step, as you mix, knead and braid your own loaves of Challah.
Not only is this a great bonding activity for families, but its also a chance for kids to learn about Jewish culture and traditions.  Plus, you'll get to take home your own homemade Challah to share with your loved ones.
Don't miss out on this exciting opportunity to bond with your family and learn a new skill.  Sign up NOW for the Kids Mega Challah Bake and reserve your spot here!