Back to top
LED Robot Plushie Virtual Workshop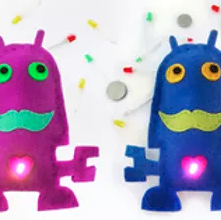 Novato Library - Online Event
Join us for an LED Robot Plushie Workshop suitable for ages 7 to 12, March 16th at 4:00 pm.
Learn to make an LED Robot Plushie with GoGo Craft owner and local artist, Amelia Strader.
Supplies for this workshop will be available for pick-up at the Novato library on Wednesday afternoon, March 9th (while supplies last).
Online event, hosted by Novato Library.