Back to top
Little Tree Studios- Adult Chocolate Making Workshop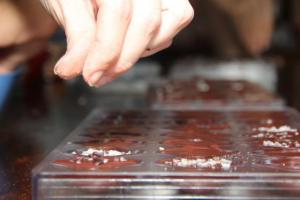 Adult Chocolate Making Workshop
Join chocolate maker, winemaker and fermentation specialist Sean Taylor from FermentNomad.com as we make organic, single-origin dark chocolate in this hands on workshop. Roasting, grinding, winnowing, molding, and of course, tasting lots of chocolate. We will also have a few flights of red wine to last along with our chocolate!
We will dive into the SCIENCE of chocolate, the ART of chocolate making and the cultural impact of the Cacao plant from 2000 BCE to the present day.
Following ancient techniques and utilizing state-of-the- art chocolate making equipment, we will design our own dark chocolate bars with, sea salt, coffee nibs and other organic flavors and spices. Enjoy some traditional Cacao tea and learn and how to make the best chocolate purchasing decisions, from a health, environmental, and social perspective. Attendees will leave with their two home-made dark chocolate bars, cacao nibs and few truffles for making hot chocolate! We promise you won't be disappointed!
Saturday Feb 16th | 1 day | 10:00am-12:30pm | 21+
$60.00
All sales are final, no refunds except when a waitlist replacement is found.