Back to top
LIVE ONLINE: How to Draw Lucy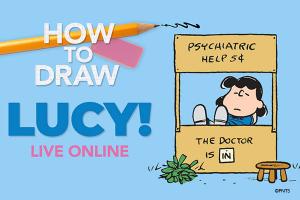 Learn to draw everyone's favorite fussbudget, Lucy Van Pelt! Explore Lucy's multi-faceted personality and learn to draw some of her many expressions with Mary Shyne, staff artist at Charles M. Schulz Creative Associates. Whether she's running her own psychiatric booth or stealing a football, Lucy is always ready to tackle anything—literally! See if you have what it takes to face off with this comic icon in this lighthearted, interactive how-to-draw class. Event meets online on via Zoom Thursday, March 11, 4:00 - 5:00 pm (Pacific Time/PT).
Advance registration required—register below or by calling (707) 284-1272. Registration closes at midnight (PT) on March 10. 
Zoom link will be emailed three days before event. There are absolutely no refunds, credits, or cancellations for this event.