Back to top
Love on the Magpie Bridge
Clarion Performing Arts Center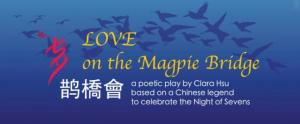 Shows are on August 7, 9 at 7:30 pm and August 11 at 2 pm.
Love on the Magpie Bridge is a poetic drama that combines poetry, music, dance, acting and games to tell the Chinese legend of the Weaver goddess and a Cowherd. Their love for each other angered the goddess' mother. She separated the lovers by creating a river of stars. Only once a year the lovers may reunite, thanks to the sacrifice of the cow god and the compassion and ingenuity of the magpies.
Night of Sevens, dated back 2600 years ago, is celebrated on the Seventh day of the Seventh Month in the Chinese calendar. During this day, fruits, flowers and special cakes are prepared. Women go to the temples to pay respect to the Weaver Goddess and to plead for domestic skills. The cow god and the magpies are also honored as they played crucial roles in the legend.
In 2019 Night of Sevens falls on August 7. Love on the Magpie Bridge provides a mid-year cultural reflection on the connection between human and nature and reverence for our animal friends.
On Sunday August 11, a costumed parade on the street will follow at the conclusion of the play. All are welcome!
Love on the Magpie Bridge is is performed by the music students and friends of Clarion Performing Arts Center. The production is conceived, written and produced by Clara Hsu.