Back to top
The Magic Lamp - Matinee Performances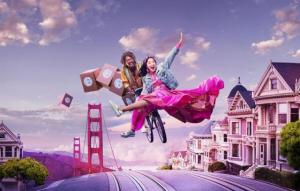 This December the newly renovated Presidio Theatre is presenting The Magic Lamp, a new holiday show for San Francisco.
The show runs December 1–31 with 27 performances and is appropriate for ages 4 and up. Show times are at 2 pm and/or 7:30 pm. Tickets start at $10.
Fun for the whole family, The Magic Lamp turns the classic children's tale of Aladdin on its head with magnificent costumes, musical parodies, dance, magic, and over-the-top silliness. Join Aladdin, a bike messenger, and Jazz, the daughter of a successful tech entrepreneur, as they discover new love and ancient magic in modern day San Francisco. The Magic Lamp is brimming with humor, featuring work by Grammy and Emmy award-winning comedy writer and musician Mason Williams (Classical Gas, The Smothers Brothers Comedy Hour, and Saturday Night Live), and Musical Direction by Bill Keck (Beach Blanket Babylon).