Back to top
MAKE: Glow in the Dark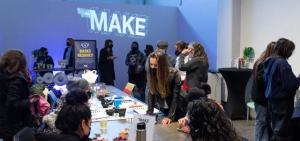 Museum of Craft and Design
MCD galleries will be glowing in the dark for the first MAKE of 2023!
Experience "Bull.Miletic: Proxistant Vision" through a series of unique hands-on projects for all ages: Build LED LightBots with "Zoom Blue Dot" contributing designer, Chris Myers; craft a Venetie inspired rhombicuboctahedron paper lantern; design reflective mylar wearables that interact with projected artworks; block carve your contribution to a collaborative puzzle map; screen print glow-in-the-dark MAKE tote bags with Ryan Hook; and engage with an AI Trash Drone demo by West Coast Dynamics.
Local composer/improviser Phillip Greenlief presents a Map Score Performance of one of his original compositions, including a DIY Map Score collaging station.
All activities are free with admission.
Tickets: $10 General Admission, $8 for Students and Seniors, MCD members FREE (with code).
Cash/Square bar for guests 21+. Complimentary drink tickets for MCD members and sponsors. ID required. Non-alcoholic beverages and snack options are available. All ages welcome!
*Activities subject (but not likely!) to change without notice.
**This exhibition contains projected images with flashing lights and visual patterns that may trigger seizures to those with photosensitivity.
MCD visitor policy
$8-$10.
Presented by Museum of Craft and Design.