Back to top
MARIN CITY LIVE! PRESENTS: Jill Tamaki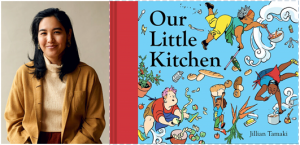 Jillian Tamaki is a Canadian American illustrator and comics artist known for her work in The New York Times and The New Yorker and for the graphic novels Boundless, as well as Skim and This One Summer written by her cousin Mariko Tamaki.  In this lively, rousing picture book from Caldecott Honoree Jillian Tamaki, a crew of resourceful neighbors comes together to prepare a meal for their community. With a garden full of produce, a joyfully chaotic kitchen, and a friendly meal shared at the table, Our Little Kitchen is a celebration of full bellies and looking out for one another.
This is a Zoom event.
Please visit http://bit.ly/3bwQQpC to register for this Zoom program.