Back to top
MARIN CITY LIVE! PRESENTS: Nancy Johnson James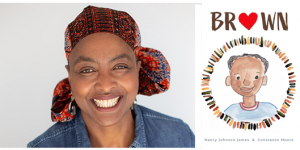 Nancy Johnson James is a poet, educator, activist and children's book author.  Her most recent book, "Brown: The Many Shades of Love:" is a loving and lovely ode to the color brown, a boy describes the many beautiful hues of his family, including his own—gingerbread.
The Event will take place via Zoom.
Please visit  http://bit.ly/3ui1jxL to register for this Zoom program.