Back to top
Marin County Mental Health Summit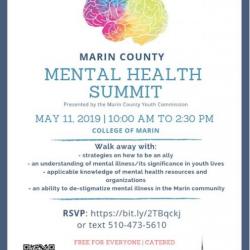 The Mental Health Summit is a FREE event that brings together youth, service providers, and school staff/officials, as well as the broader community, to identify and address gaps in youth mental health services. Please join us for:
a youth panel to hear how youth are dealing with mental health and advocating for services
an advocate panel to hear what different efforts are happening across the county
breakout sessions to elicit feedback from participants about how we can collectively address the issue.
Onsite mental health support will be provided and, to ensure that the event is accessible to as many people as possible, Spanish interpretation services will be provided along with a free lunch and childcare. It is crucial to have as many voices as possible in this conversation so please join us and spread the word!
RSVP at: https://bit.ly/2TBqckj  or text (510) 473-5610.
The Summit was designed and planned by the Marin County Youth Commission (MCYC) in partnership with Marin County Government Behavioral Health & Recovery Services and the Growing Roots Project.